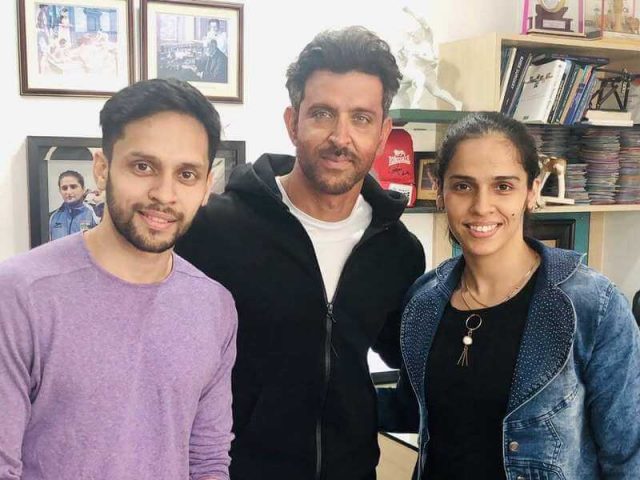 We all know that relationship between sportspersons and Bollywood stars has been hot topic. We often see a sportsperson getting married to a Bollywood stars. One of the most trending couple recently is Virushka. A sweet charming cricketer named Virat Kohli tied knots with very talented and beautiful Bollywood actress Anushka Sharma. Who won't know this sweet couple, right? But ever wondered that other sportsperson and Bollywood star relationships are also successful and only few know about those couples? Here are some successful relationships turned into married couples.
#1 Lara Dutta & Mahesh Bhupathi
Lara Dutta debuted in the movie Andaaz(2003) after she got crown of miss universe in 2000, tied knots with Indian tennis superstar Mahesh Bhupathy who made 11 grand slam titles to his name, till the date after their successful relationship. They got married both the ways, Indian traditional wedding and then just after 4 days, they had Christian wedding at Goa. They even have a beautiful daughter named Saira.
#2 Geeta Basra and Harbhajan Singh
Geeta Basra who acted in famous Bollywood films like Dil Diya Hai(2006), The Train(2007), Second Hand Husband(2015) got married to a well-known Indian International cricket player Harbhajan Singh. Like other Bollywood and sportsperson couple's relationship, theirs relationship too, was successful and turned into a successful marriage life. They met through a mutual friend and after the marriage they have a daughter too.
#3 Mansoor Ali Khan Pataudi and Sharmila Tagore
Well, who doesn't know about their love story? But, unlike others, their love story was quite unconventional. They first met in 1965 through a common friend of theirs. Wooing the Bengali beauty was harder even for the Indian Cricket team captain. After four years of sending roses and love letters to the Bengali beauty, she finally said a "Yes". Mansoor Ali Khan Pataudi even survived the car crash and left his right eye's vision permanently impaired. But, even after his accident and their mutual love to each other, it was their family they had to convince their respective families for turning their relationship into a bond of marriage. It was the society too, who was seeing their relationship unconventional. But, after lot of struggle and convincing their respective families, they finally became officially a 'Couple', and had a marriage ceremony. They even had kids. Saif Ali Khan, Soha Ali Khan and Saba Ali Khan are the kids they had together, and they are pursuing a successful career in the Bollywood Industry.
#4 Mohammed Azharuddin and Sangeeta Bijlani
Now, their love story is quite different than others. Azharuddin, who was very talented and energetic cricketer, got married to a Hyderabadi girl Naureen. They had their wedding back in 1987, and had 2 kids as well, and one the younger of them died in the road accident. But, fate! It has decided some other decisions for Azharuddin. Azharuddin and Naureen's marriage were going stable until he met Sangeeta Bijalni at a TV Commerial ads studio. Now, their story began. Back then Sangeeta Bijlani was just got out of serious relationship with Bollywood actor Salman Khan. Now they seen each other and fell in love. And after, some complications and struggle they got married in 1996, after Azharuddin divorced with Naureen.
By Mohit Nirmal