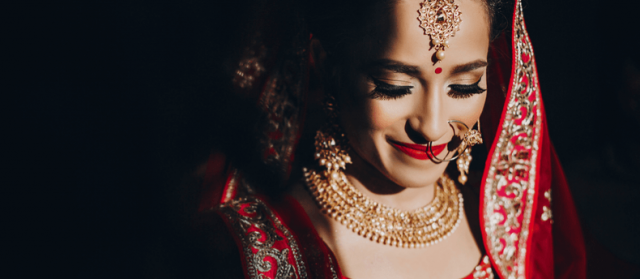 Every bride is the star model of her wedding.after fun part of your engagement now it's time to get prepare yourself for your special day.you spent a long time on your shopping list, decoration, and invitation list but now its time to plan perfect skin, hair, and nail for the wedding date.wedding beauty is incomplete without your natural skin glow. Just heavy clothing and antique accessories do not shine your bridal getup if you forgot the most important thing to take care of – YoURSELF
We bring to you the top pre-wedding beauty tips for brides-to-be, which may turn out be lifesavers in the middle of all the wedding chaos. Have a look!
Pre Wedding Beauty Tips For Brides:
pamper your face
For glowing your face clean face with a good cleanser to remove dirt on face, also keeps pores open and give youthful look. moisturizing the face with non – Comedogenic moisturize helps lock in the moisture into the pores, keeping your skin soft and supple. Apply sunscreen daily to avoid any tanning damage to skin .apply lip moisturizes daily to prevent dryness.
 Beautiful Hands And Feet
Soft and supple skin of hands and feet surely attracts everyone attention.Keep your hands and feet soft especially nails by applying olive oil before going to sleep at night. it will get rid of the dry skin on your hands and feet and provide shiny looks to nails. After bathing, also apply moisturizer to prevent dryness of skin.Exfoliation is one of the best ways of getting skin that is free from dead cells. Gently exfoliate with scrub on hands and feet once a weekly .use glycolic acid, urea-based cream for feet and hand as an exfoliator.
Hair Removal Laser
Hairless skin will enhance your look also build your confidence to carry your western outlook. Laser hair removal will be a good choice for you to get rid of post waxing problems like burning, eruption or rash. Keep yourself well groomed.
Modify your lifestyle
Avoid crash dieting or aggressive exercise to lose weight before 1-2 month before the wedding. It can give tired look on your face with dull skin. Mediation is an effective way to reduce stress also calm down your anxiety.Plan to have balanced diet containing fruits, vegetable and drink plenty of water. Sound sleep is absolutely essential before the wedding. Lack of sleep can give you dark circles. Do not skip meals. you should try to stay happy, because after all, how we feel inside is what reflects outside.
Maintaining The Glow
Many of us give up on our beauty schedules post the wedding. After all, everyone deserves a little 'me time'. Try to avoid using an untried facial product on the day of the wedding.Apply vitamin C on the face for adding a glow to your beauty which acts as a natural antioxidant and depigmenting agent.Before wedding ask your physician for some antioxidant which enhances skin and hair beauty.
Plan for shiny, silky hair
Plan your hair treatment few month before the wedding for silky shiny hairs. Give oil massage to the scalp to relax your mind plan anti-dandruff treatment if you have an itchy scalp.Try some home medicine which helps out your fizzy hair problem and boosts shine to your hair.
Clinical  Treatments
If you have too many marks or spots on the skin or acne scars ,fine lines then clinical sittings will be your gateway to getting a fairer and spot-free skin quickly. professional treatments for patchy skin, sunburns, and pigmentation is highly indicative .Microdermabrasion, chemical peel treatments from a professional doctor is also a good fix for acne scars, marks and blemishes. Start your treatments at least few months before the wedding for fine lines, wrinkles, or even acne.
Dr. Megha Asawa
meghaa@aestheticsolutions.in