How has your journey been so far? 
It's been a rollercoaster I wouldn't change much but it's definitely not been the route that many others would have chosen. From leaving the Uk at 21 after my degree which was meant to be a year of fun and modelling to 15 years I am truly grateful for this journey.
How's the experience been hosting IPL?
Of course it's exciting as not, two days are the same One day I'm at a stadium hosting the World Cup the next day I'm shouting a song Also I travel between London and Mumbai so I genuinely feel I'm living two different lives. 
How do you manage staying fit and healthy?
I love to workout out and keep fit and have a healthy balance. I definitely look after myself but if you see my social media I love to travel read books and try different things. It's all about balance I think there was an age where I wouldn't eat much and be at the gym all the time But now I think it's just about eating healthy and working out and enjoying life.
How do you spend your spare time?
Spare time is spent with my family and friends and my dog Duke and lots of lovely dinners and lunches Being self employed, not two days are the same so I keep busy with the gym, cooking, reading and spending time with friends. 
Have you ever thought about becoming a celebrity when you were a kid?
Not at all , I've always wanted to be a teacher or go into journalism and wanted or to be in the media But never famous as such Even now I feel I'm more focused on being a good presenter or actor feather than being famous- which is just a bit product.
Who was your inspiration?
I love reading books and authors who inspire me and maybe Oprah
What your biggest learning experience you've ever had?
My biggest learning experience is that no two days are the same being self employed You can be busy for three months and do nothing for months in end so for me yoga ,working out and a balance is really required 
Which role in movie is closest to your heart? 
My first south film directed by Prabhu deva is the closest to my heart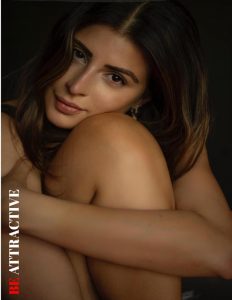 Tell us about what you're working on now?
Right now I've shot a movie called screen which will be released soon And some new project which will be announced shortly 
                                                     Quickies
Who is your favorite actor and why?
Amir khan For his versatility and passion 
What is your favorite food? 
Love swati snacks
What's your favorite holiday spot?
Barcelona and Rajasthan 
What's your biggest fear? 
Losing the people I love
What are your future goals?
Marriage and a beautiful baby
Which celebrities you believe are the most influential?
Hard to say they vary
What is one message you would give to your fans? 
Be kind always 
What would you liked to be remembered for? 
I would like to be remembered as kind and loyal
What is your greatest strength and weakness? 
Strength is my confidence 
Weakness is not being with family