One of the most preferred travel destinations in the world, the Emirate of Dubai is everyone's favorite playground. Be it the exotic deserts, pristine beaches, luxurious shopping malls, brilliant architecture, or ultramodern theme parks, the city attracts people like a magnet. The city not only offers glitz and glamour but also a charming history and culture. Let us explore the top ten attractions to visit in Dubai.
Desert safari
A journey into the heart of the red Arabian sands of Dubai is a must when you are here. A desert safari gives you the perfect opportunity to explore the exotic deserts and get a glimpse of Emirati life. You can enjoy thrilling activities such as sand boarding, dune bashing, and quad biking. In the Bedouin campsite, you can ride a camel, smoke a shisha pipe, click pictures in traditional Arabic garments, get henna paintings on your hands, and watch some falconry. Your evening gets more interesting as you sit down to watch captivating cultural performances such as Tanura Dance Show, Belly Dancing, and Fire Show. Post that, relish a mouth-watering buffet dinner with a variety of local and international delicacies.
Dubai Aquarium and Underwater Zoo
This gigantic aquarium houses over 33000 aquatic animals and is one of the largest suspended aquariums in the world. Spread over 140 marine species, the aquarium consists of creatures such as sharks, piranhas, stingrays, manta rays, and colorful fishes. There is also a huge and terrifying crocodile called the King Croc which weighs 750 kgs. Stroll down the tunnel and admire the mesmerizing creatures all around you. Popular activities here include Shark feeding and cage snorkeling.
Burj Khalifa
Burj Khalifa, the tallest structure in the world is surely one of the top places in every traveler's Dubai city tour itinerary. Get into the fastest elevator to visit the observation deck from where you can enjoy a jaw-dropping view of the entire city. With the help of telescopes placed there, you can also spot some of the major landmarks of Dubai such as Dubai Marina and the Palm Jumeirah. It also offers you a view of the contrasting landscape of the city with the desert on one side and the ocean on the other side.
Al Bastakiya Quarter
A trip to the oldest neighborhood in Dubai transports you to the bygone days when Dubai was a sleepy coastal village. Walk through the winding alleys and admire the sand color buildings that have wind towers signifying the local air-conditioning system in olden times. The houses here are made of natural materials such as gypsum, coral, palm fronds, stone, teak, and sand. This place is brimming with art galleries, restaurants, cafes, and boutiques. Do check out the Coffee Museum and Arabian Tea House as they are some of the famous eateries here. Another must-visit is the Dubai Museum where you can get some insights into Islamic culture and heritage.
Dubai Mall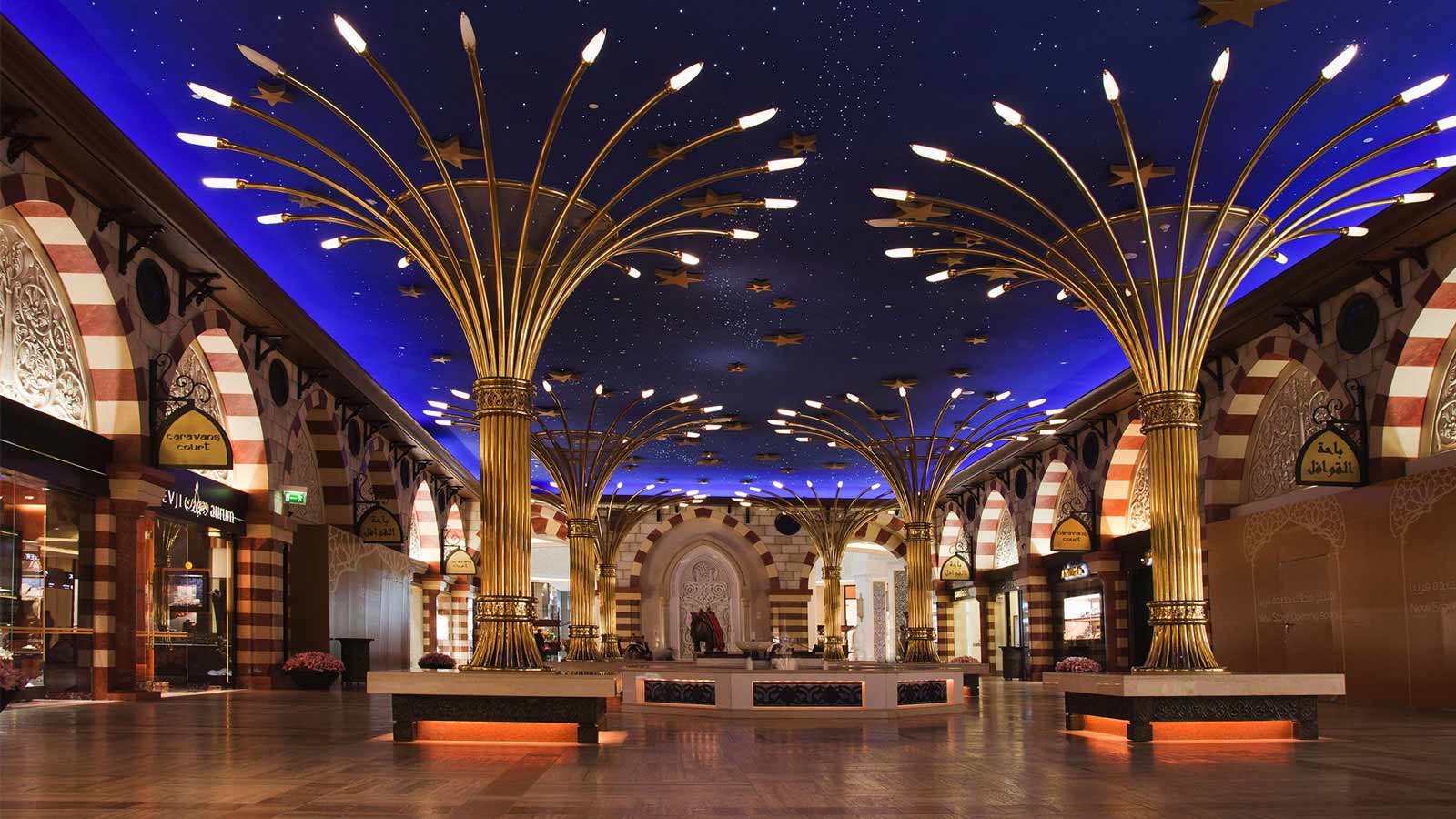 One of the largest shopping destinations in the world, the Dubai Mall is home to a plethora of local, international, and luxury brands. It also has many gourmet restaurants, great eateries, and entertainment zones such as an ice rink, multiplexes, a breathtaking indoor waterfall, Kidzania, VR Park, and an aquarium. If shopping is not on your agenda, you can enjoy a day walking leisurely around the mall and look at the window display of the stores. In the evening, head out to witness the splendid Dubai Fountain, a choreographed fountain system which is a magical spectacle of music, water, and lights.
Dubai Creek and Souks
Dubai Creek is a saltwater creek that is an important part of Dubai's history. You can cross the creek in the traditional wooden boats called Abra for just 1 dirham. Both sides of the creek are dotted with traditional markets called the souks where you can enjoy an authentic street shopping experience. The Gold Souk has over 100 shops selling gold, diamonds, and precious stones. You can buy a variety of herbs, dates, dry fruits, teas, and spices in the Spice Souk. The Perfume Souk has an amazing collection of essential oils, and perfumes while the Textile Souk has traditional Arabian garments, shoes, and other knick-knacks. Ensure that you haggle with vendors to get a reasonable price on the products.
Palm Jumeirah
This magnificent palm-shaped archipelago is a man-made wonder and a stunning architectural masterpiece. Visible even from space, this colossal island is lined with opulent resorts, fine-dining restaurants, luxury villas, and elegant apartment complexes. The iconic hotel Atlantis, the Palm also sits proudly on the corner of the island overlooking the Persian Gulf. Sky diving and helicopter tours are available if you want to witness a spectacular aerial view of the island. One of the best reasons to apply for your Dubai visa, isn't it?
Dhow cruise
The 2-hour dinner cruise in the tranquil waters of Dubai is one of the most relaxing experiences. Dhows are traditional wooden boats that have been remodeled in recent years to offer visitors an evening filled with fun and entertainment. Along with a lavish buffet spread consisting of an array of delicious dishes, you can enjoy Tanura Dance, Belly Dance, and other cultural performances. You can also enjoy stunning views of the dazzling Dubai skyline and buildings around Dubai Marina or Dubai Creek depending on where you book your dhow cruise from.
Ski Dubai
Offering an ideal break from the intense heat of Dubai, Ski Dubai is a large indoor ski resort right in the middle of the desert. The park consists of a sub-zero temperature all year-round to ensure that visitors enjoy numerous snow activities. You can try tobogganing, skiing, and snowboarding. There is an ice cave, a mountain, a chairlift, and even a skiing academy for people who would like to learn skiing. Don't miss the March of the Penguins, a fantastic show where these adorable creatures entertain you with their antics.
Dubai Global Village
The Dubai Global Village is a complete shopping and entertainment hub that takes place every winter in Dubai. It is a massive exhibition plus flea market of sorts that is extremely large and usually takes place between November to March every year. Pavilions replicating different countries with a famous landmark or monument from there fill the place. You feel as if you are in a particular country without even traveling to one. You can indulge in delicious local food, shop for clothes, handicrafts, and other souvenirs, watch live performances, and also try exciting rides.
Conclusion
Many adventures and places are waiting to be explored in Dubai. It beautifully balances the old and new making it such a vibrant destination for travelers. Throw in mouthwatering street food, a well-maintained transport system, and a lively nightlife and you have the perfect place for a family holiday.