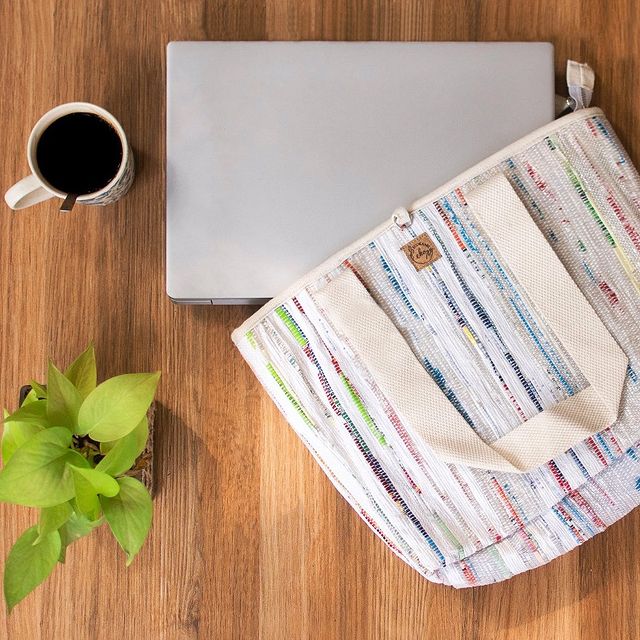 Recently, a gift to my mother- a wallet, caught my attention. The material seemed so unique! it felt like plastic and yet it was constructed into a beautiful fabric. The label read "ecokaari" – eco meaning ecofriendly and "kaari" meaning craftsmanship.
After its accidental invention in Northwick England in the year 1933, the first polyethylene bag was patented in 1965. Since then, this material has become both the boon and bane of our existence, finding its way into all corners of our lives. 
Plastic has become unavoidable, serving as packaging for most of our daily items and thus, impossible to severe ties with. The hardest to recycle is the single use plastic that is used only for a few seconds but stays in the environment for decades. A plastic noose is choking our animals, oceans, marine life… basically our whole earth and we're all but sticking our necks into it. Imagine 9.4 million tons of plastic being generated in India, annually.
Pune based ecokaari founded by Mr. Nandan Bhat has two main aims:
conserving the environment.
      2.providing livelihood as artisans to women and youth.
Founded in 2019, after the initial wave of the Covid 19 pandemic, Ecokaari is a name that is resolving waste management, especially with the non-biodegradable and difficult-to-recycle waste plastic. It upcycles waste plastic into durable products like bags, pouches, backpacks, cushion covers, plant-able pencils, laptop sleeves, and much more.
Visiting their Pune workshop was an experience in itself. The entire process is deliberately manual making no use of heat or electricity, reducing their carbon footprint. The process starts right from waste accumulation. Drives are organized where people donate single-use waste plastic. A large amount of plastic is collected through waste-picking organizations and directly from waste-pickers creating an alternative earning channel for them.
Large corporates like biscuit and chip manufacturers and NGOs also contribute their waste. Ecokaari upcycle, difficult to recycle Polythene bags (single-use plastic carry bags and grocery bags), multi-layered wrappers of cookies, chips, detergents, pulses and flour etc., gift wrappers and old audio & video cassette tapes, bread packets, bubble wrap, foam, transparent plastic and plastic packets from online e-commerce portals such as Myntra, Amazon and Flipkart. 
Exceptions
Milk, oil packets/ containers as it is hard to remove the grease and smell Sachets, straws or small packets, as they are too small to be woven hard plastics like shampoo bottles CDs are also not used.
The collected plastic waste is hand-washed, sanitized and sundried before it is sorted color and grade-wise.The Plastic is then cut into long strips, rolled upon a spindle with the help of a charkha and woven on a traditional handloom where the plarn forms the warp of fabric and the weft is that of rPET i,e., thread made out of recycled plastic.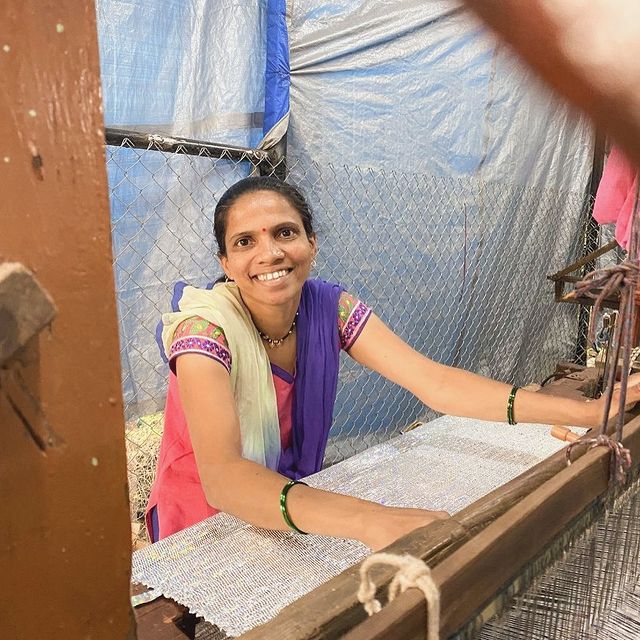 The handwoven upcycled fabric is available in standard sizes of 30×30 inches and 19×36 inches but the length of the fabric can be customized according to need.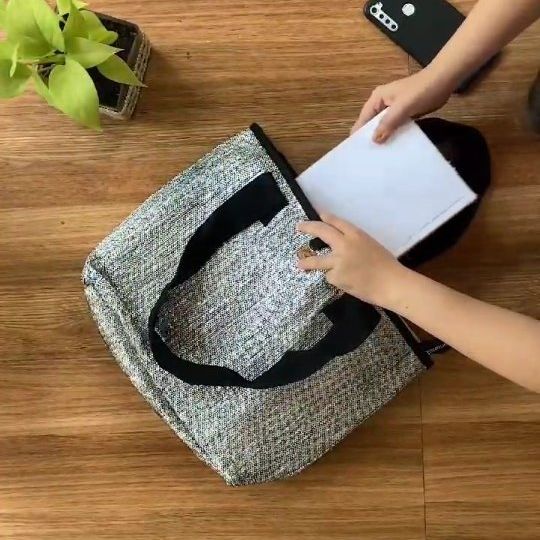 The largest bag utilizes the full 30 x 30inch fabric without any waste saving around 40-50 polythene bags. One single product can make such a difference! Till now 17,00,000 plastic bags have been saved from going back into the environment.
Rural women and youth are taught to operate the handloom, giving them a chance to earn their own livelihood and contribute to saving the environment at the same time! Presently 20 women are working in the Pune workshop, doing everything  from sorting, washing, cutting…to operating the looms to necessary quality checks.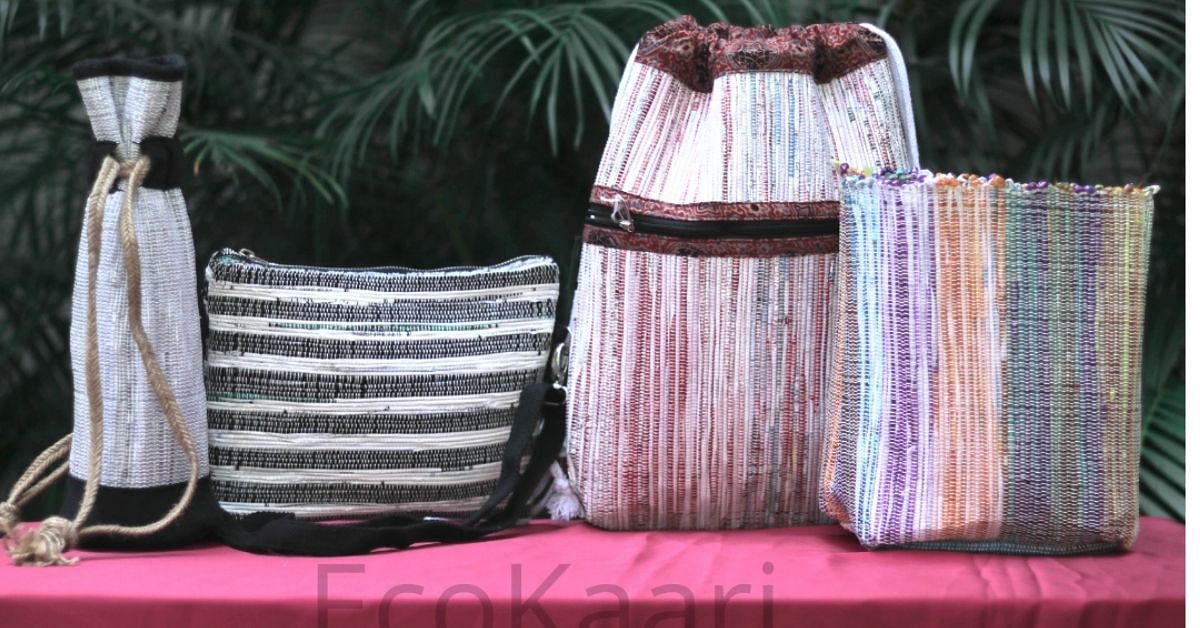 Slowly yet surely, ecokaari is helping us loosen the impending plastic noose, and creating beautiful, sustainable and definitely fashionable products…a must have for anyone and everyone.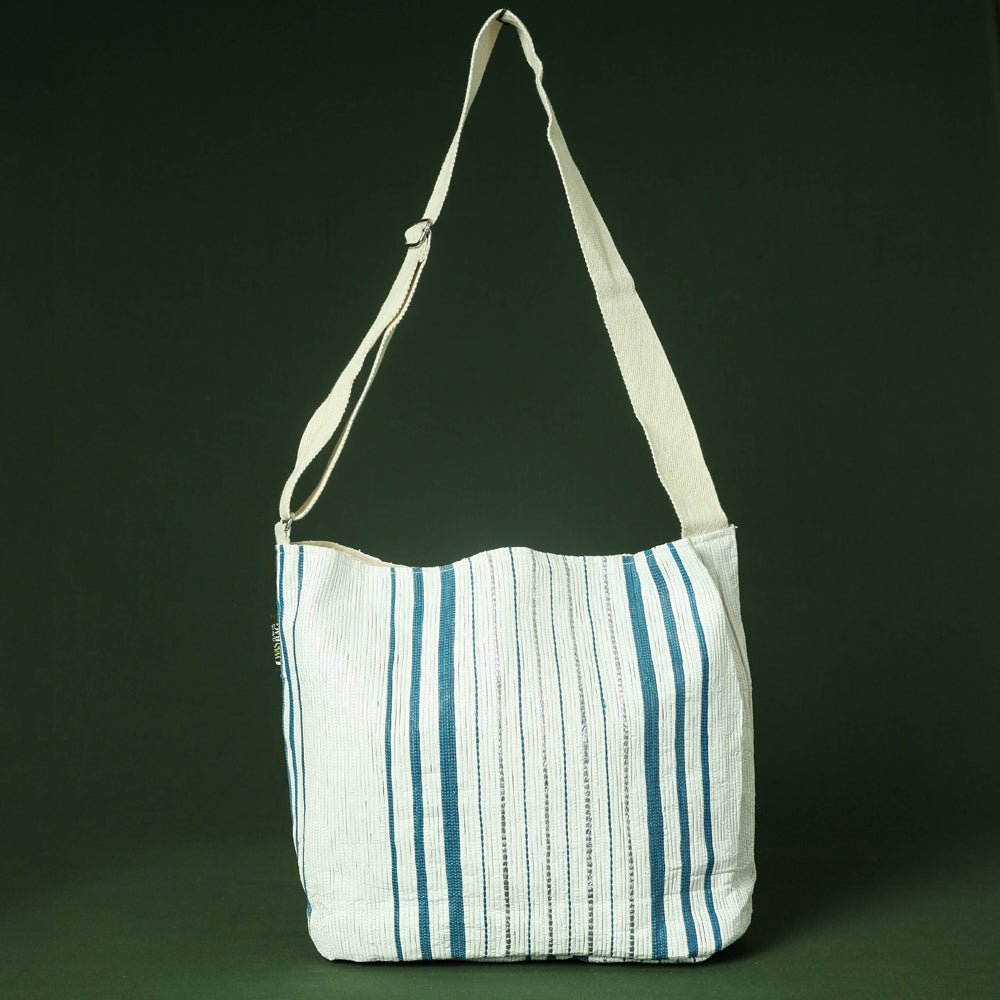 The best part, we all can contribute by donating plastic waste and buying their products. Read more at www.ecokaari.org
Article Written and contributed by
– Dea Tickoo, NIFT, Mumbai