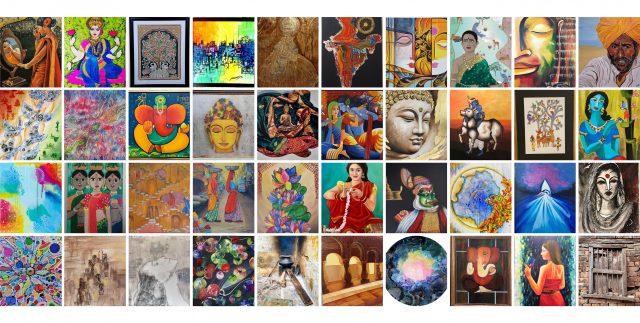 RANG: COLORS OF INDIA
Art exhibition titled 'RANG: Colors of India' was organized by Funun Arts partnered with Novotel , World Trade Center, Dubai on 28th, January to celebrate the 73rd Republic Day of India. This event was supported by the Consulate General of India, Dubai and Azadi Ka Amrit Mahotsav.
Republic Day is celebrated on January 26 every year to remember the day when the Constitution of India by Dr. Rajendra Prasad came into effect after India gained independence after a very long freedom struggle. Ever since the historic day, January 26 is celebrated with festivities and patriotic fervor all around the world.
Funun Arts group of UAE always adds some extra colors to the event. In this art exhibition along with Indian artists, there were artists from different nations who paid tribute to India through their colorful paintings. 40 artists displayed 40 artworks showcasing different forms of Indian art and their perspective about India. We can experience beautiful India here in UAE through these vibrant paintings and photographs.
Exhibition was inaugurated by Ms. Tadu Mamu (Consul press information culture & labour), Nisha Ganpathi (Group Product manager, Dabur International),  Irka Bochenko (actress, known as Moonraker), Mr. Ahmed Al Awadhi, Nada Al Barazi ( A legendary artist), Purva Grover ( Author , speaker and journalist), Peter Gressman ( Art forum UAE), Pari Sagar ( Be attractive), Saju Nair ( IITELIVISANARIO 2), Neha Vinod (Asian Herald). There were many more dignitary guests present beside them.
The exhibition was full of different segments which showcased every aspect of India. The program started with Sare Jahan se Accha slogan by Shiba Khan, followed by lamp lightning and distribution of laddoos. Purva Grover took over the hearts of everyone with her nostalgic poetic prose, "IT'S TAKE LOT TO BE AN INDIAN" she composed in "hinglish". Then there was the cultural dress walk by the artists where we felt as if we are in the republic day parade of India where we see JHANKEES from all states.  Adding beauty to the event was the cultural music performance by the Art and Music Movement Society.
Three artists Anubha Kaw, Ankisha Jhawar, Sabah Anees won the best cultural dress award.
Tatiana Gurova( Russia) , Tatiana Yatlo( Ukraine), Hengameh Tajiki( Iran), Dr. Wesam Mamdouh (Egypt), Diana Shaykhutdinova( Russia) were the Non-Indian artists who showcased their artwork depicting India.
Other Participating artists were: Adelina Maria Baldivin/ Anita Jain/ Anjini Prakash Laitu/ Ankisha Jhawar/ Anubha Kaw/ Anasuya Patra/ Christine Dessa/ Dr. Devishree/ Dr. Soumya Shree/ Farah Khan/ Gomathi Shiva/ Indrani Ilmi/ Kavitha Vinod/ Kavya Vinod/ Khan Ayaan Abdulla/ Medha Nerurkar/ Mohammed Huzaifa KhaN/ Moni Shyam/ Pari Sagar/ Poonam Chaturvedi/ Radhika Kamat/ Rani VishwambharaM/ Riya Shah/ Sabah Anees/ Sabrin Asker Ali/ Saida Banu/ Saima Hasan/ Sameena Firdose/ Sheetal Durve/ Shiba Khan/ Smitashree Balaji/ Susmitha Dhruva/ Vandana Arora/ Varsha Khatri/ Vidisha Pandey
Shiba Khan, artists, designer and founder of Funun Arts Group said:" "India is the cradle of the human race, the birthplace of human speech, the mother of history, the grandmother of legend, and the great grandmother of tradition. Our most valuable and most instructive materials in the history of man are treasured up in India only. Art forms of India are incredible and the beauty of it can be experienced in the whole world. India is known for its colors, vibrancy and rich culture and heritage. Today we are happy to present the artists not only from India but from many different nationalities. This makes us feel proud to see these artists depicting colors of India.
Ms. Tadu Mamu (counsel press information culture & labor) said" My heartiest greetings to all of you, here, in India and abroad, on the eve of the 73rd Republic Day! It is an occasion to celebrate what is common to us all, our Indian-ness. It was on this day in 1950 that this sacred essence of us all assumed a formal shape. That day, India was established as the largest democratic republic and 'we the people' put into effect a Constitution that is an inspired document of our collective vision. India is celebrating its 73rd Republic Day Wednesday. Given that Republic Day this year falls in the 75th year of India's Independence, we have linked it with January 23 to mark the birth anniversary of Netaji Subhas Chandra Bose and culminating on January 30, which is observed as Martyrs' Day. Congratulations to Shiba Khan and Farah Khan for such a beautiful event.
Irka Bochenko (actress, known as Moonraker) was very glad to be the part of this celebration. She said "I can experience India through these masterpieces. The colors really make me feel so positive and happy. Love the whole event full of culture and richness."
Nisha Ganpathi (Group Product manager, Dabur International) said" The diversity and vibrancy of our democracy is appreciated worldwide. It is this spirit of unity and of being one nation, which is celebrated every year as Republic Day.
Nada Al Brazi, artist said: India is known as the land of culture and tradition. Indian culture is rich and unique in its own ways. In India manners and etiquettes, the style of communication, values and beliefs are vital components of the culture. All this we can experience in today's event.
Farah Khan, Co-founder of Funun Arts group said: Culture plays an important role in the development of any nation. It represents a set of shared attitudes, values, goals and practices. Culture and creativity manifest themselves in almost all economic, social and other activities. A country as diverse as India is symbolized by the plurality of its culture. India has one of the world's largest collections of songs, music, dance, theatre, folk traditions, performing arts, rites and rituals, paintings and writings that are known, as the 'Intangible Cultural Heritage' (ICH) of humanity.
Ferry Trinidad, Digital cluster manager of Novotel, WTC said "We are always glad to welcome all artists and today's event is very colorful and extravagance. We can really feel how colorful India through these artworks. Exhibition will continue till 8th. February.
Shiba Khan said that Funun Art is very thankful to all our media partners / artists/ family/ friends/ and everyone who is always there to support art and culture. We are thankful to Nature's cart and Dabur International for their support.
Rang art event can be best quoted as: "A nation's culture resides in the heart and in the soul of its people." Mahatma Gandhi
About Funun Arts:
Funun Arts is a non-profit platform where artists are given an opportunity to exhibit their talents in a space that is affordable and allows them the freedom to enhance their creativity. Funun offers them an experience they will cherish. Emerging as an innovative idea amongst a few artists in 2016, it soon took over the aspiring imagination of the Khan Sisters, Shiba and Farah. Shiba Khan is an artist, Fashion Designer and art activist and Farah Khan is a photographer, creative designer and a food blogger.  Funun Arts has been widely appreciated for their initiatives towards social and noble causes for a better society, and has been engaged in offering a helping hand to those in need. They believe that art is not only brushes and canvases; it is also a form to communicate your thoughts without any constraint, and that brings about a sense of positive energy which brightens the spirit of the onlooker. Now more than 400 multinational artists are the part of this art community.
Get Social:
Instagram: @ fununartsgroup;
Facebook: @fununartgroup