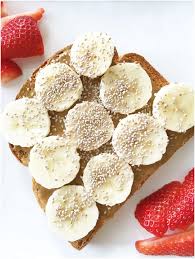 Our lives have become so fast that we always end up eating junk food and if not that, we seem to never keep a health check of the food we eat. So, here is a list of quick healthy bites that you could use for your breakfast, lunch or snacks! They are easy to prepare and all you need is to have the ingredients ready; you will then be good to go!
Nut Butter, Banana, and Chia Seed Toast
Source: theskinnyfork.com
Now this is one really simple food bite for you. All you need to do is put on some classic PB over the toast and sliced banana over it followed by a quick sprinkle of Chia. Here, Chia shall provide you the essential minerals and vitamins which is around 6x higher in calcium content when compared to milk.
Savory Oatmeal With an Egg
Source: epicurious.com
Now for those who love oatmeal; this will be an ideal meal! For those who don't, you must surely try it. Prepare the regular oatmeal (water or milk) and add a pinch of pepper and salt; not sugar. Top it up with egg and sprinkle some cheese for the taste buds. Nothing will taste better!
Avocado Toast With Egg
Source: playbuzz.com
Avocado is indeed magic to health! Top two lightly toasted slices with some smashed avocado mixed with a pinch of salt and pepper. Put a layer of eggs for the essential protein does and you have an easy breakfast ready! You can carry them to school or work as well; top them up with another slice of breads each!
Cauliflower pizza bites
Source: wicked spatula
Healthy and pizza together? Sounds fun! Instead of using the white dough, make use of the muffin tins and have cauliflower as the base. You could add up some pizza sauce for dipping and well, pizza wouldn't have been tastier and healthier!
Nachos
Source: Martha stewart
Now we are talking about both our taste buds and health! Though it might not be the healthiest quick bite, but well, homemade dip, guac, some cheese and individual tortilla chips seem to be fine! They will keep a check of the proportions and at the same time also the distribution of ingredients!
And that was about the list of quick healthy bites! No more starving yourself to stay healthy and fit; just incorporate these into your everyday meals! No matter how much you exercise, it will never be enough if you don't keep your eating habits healthy! Happy eating!