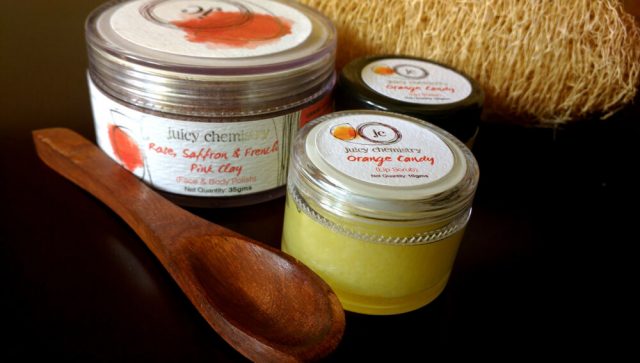 Today I'm reviewing "JUICY CHEMISTRY" products which are absolutely great. The aroma of these products are  beyond anything & Don't forget to read this blog till the very end to know the *SURPRISE*?
I Got bunch of JC products-
1.Avarampoo senna & Bergamot Scrub:It is Oil control face scrub which includes himalayan rock salt, Organic demerara-cane-white sugar,extra virgin olive oil,jojoba oil,natural vitamin-E,sweet almond oil,bergamot essential oil and senna flowers.
Experience:
This scrub removes all the dirt from the face and extra black heads in rubbed in circular motion with your fingertips. The fragrance of this scrub is natural and gives organic feeling.
2. Juicy chemistry cell construction night repair serum:It is an 8ml bottle which includes night repair serum. what you all have to do is after cleaning your face at bedtime take 3 drops of it on your palm and massage it gently on your face. It moisturizes the skin also removes skin problems like pigmentation. I'm using this serum from last one week and i can feel the difference. My skin has become much softer and glowing.
3. Natural body scrubber and wooden spoon: The first thing my mom said while seeing the body scrubber is Oh it's made up of "RIDGE GOURD". And i laughed, mom you know everything so well- after all she's my mom!❤ It's true that i don't know either its made up of that or not but yes once again it smells so nice. Adding on the wooden spoon is icing on the cake.
So, That was my experience regarding JUICY Chemistry products. Also, have a look at pictures below:
I would recommend you all to use these product atleast once. It really works.