If there is one actor in the entire industry who really live by the line "dar ke aage jeet hain" is not Hrithik Roshan but one and only Kangana Ranaut. What in the world is so unique about this small town girl who at the age of 33 only has been honored with Civilian Award like Padma Shree, 3 national Awards and 5 Filmfare Awards. What is so unique about this lone warrior that she is vocal about every issue with no thought, hold back, absolutely no hold back. How come a girl became THE GIRL, that none wants to mess around with.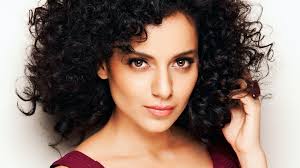 Born in Bhambia, small town of the state of Himachal Pradesh, kangana relocated to Delhi and after a brief exposure to Modelling she made her Bollywood Debut by Mahesh Bhatt's GANGSTER in the year 2006 where she played simran who is trying to drown her ordeal in booze. This challenging got her noticed among the fraternity and earned her first FILMFARE AWARD. Audience loved the combination of talent with beauty. Among the talentless bollywood biggies descendants Kagana's eye peered through the heart of the audience. Her acting made audience feel with her and from here the journey starts of a future acting star.
She nailed it again with  Who Lamhe (2006), Life In a Metro (2007) and  Fashion (2008). Fashion gave her first National Film Award for best supporting Actress. Many experts went on record to praise Kangana for her intensive performance. She continued her journey with  Raaz: The Mystery Continues (2009) and Once Upon a Time in Mumbaai (2010). Both movies saw her palying roles which were not in line with her charisma and she attracted the critism for the same. Year 2011, she gave her audience a life time role of Tanu in Tanu Weds Manu which proved her acting mantle beyond doubt. From 2012 till early 2014 she appeared in some glamorous movies from Big Houses of Bollywood but non was worthy of serious attention. Under the ditection of Vikas Bahl, Kangana depicted Rani in the comedy-drama Queen (2014), a girl whose Groom ditched her on the day of marriage and she decides to take a Solo Honeymoon with herself. 2015 the sequel Tanu Weds Manu: Returns (2015), bombed the box office and she was showered with applauds from everywhere.
She further participated in some pure commercial projects which didn't leave any impression on audience with an exception of her co-directorial deubt and home production, the biopic Manikarnika: The Queen of Jhansi (2019), in which she portrayed the Lady of Jhansi and took this iconic role to the next level. Most people dont know, she is at par with legendary Shabana Azmi when it comes to wining 3 National Awards, a far distand and almost impossible dream for our current generation leading ladies. Unlike other contemporary actresses of her time kangana has not acted with big Stars of Bollywood except Kites and still her movies turned out to be the biggest grocers at BOX OFFICE.
Above said achievements alone, don't make her THE ACTRESS. Her determination to lead inspite of intense resistance from the so called Bollywood Mughals, is the main factor for that. Hrithik-Kangana scandle and the burst out fo the same in open made the entire Bollywood stand against her. She was completely ignored by Big Houses. Kangana didn't get scared of it and decided to make the best out of situation and gave amazing work with filmmakers who trusted her and gave us some amazing stories like never before.
It is her fearlessness and the her trust over her talent that she broke out of submission to bollywood biggies and on National Television termed KARAN JOHAR, Owner of Dharma Productions as the MOVIE MAFIA and Nepotism Flag Bearer in Bollywood. This episode truned out to be moder day David-Goliath story, with Kangana coming out with victory and karan hiding his embarrassment behind a smile.
Her further stance on Manikarnika promotion, intense attacks on Bollywood Nepotims and particularly on Hrithik Roshan, accusing Director Vikas Behl of undue advancement on the sets of Queen which led Vikas Behl loosing the credit for directing the SUPER-30 due to this, strengthened her ideology in every sense.
Commenting on the recent unfortunate incident of Sushant Singh Rajput's suicide, she went on record to criticize the Bollywood Mughals for creating an environment where outsiders are demotivated in order to make them inferior to talentless bollywood housies.
Taking every factor into account, Kangana turns out to be the Talent Powerhouse with nerves of steel, The Hollywood has got Iron Man in fiction, I think we have Iron lady in reality.