Devotion simply means connectivity. It's an unquestionable connection. And it's purely your belief. Eid ul Adha convey the message of devotion, belief in your creator and sacrifice.
The UAE based art group Funun Arts along with Pullman Hotel, Sharjah organized an art exhibition where 15 artists from different nationalities showcase their arts depicting devotion.
Titled DEVOTION, the exhibition was inaugurated at lobby of Pullman Hotel, Sharjah. It is the first art exhibition in The Pullman hotel. The theme of the exhibition was Islamic calligraphy, mosques, Islamic architecture, prayer, sacrifice and love. And this was well presented by all artists in a very unique way.
The exhibition was inaugurated by Mr. Ahmed Hiloz, Mr. Fadi Musharafie, Manager of the hotel and Mr. Ahmed Al Awadhi.
Mr. Hiloz is one of the most popular artist from Jordan, Founder member of  Emirates Fine Art Society and Banoosh group. He is a great sculpturist and the face of Arab Cultural Society, Sharjah. Mr. Hiloz, congratulated Shiba Khan and Farah khan for their work in the field of art and culture. He said, Sharjah is the Islamic capital and this is the most suitable theme to be exhibited at the time of festive season. We can see a variety of work and the expressive way of artists through their paintings. Each artwork narrates a story which is well explained by an artists and felt by the viewer.
Mr. Ahmed AL Awadhi, who is know as Rukni in art fraternity was the guest of honor. He is a pioneer artist and a successful man. He said, It is an honor to be here as a guest of honor and see the beautiful artwork , artists from diverse nationalities coming up together to showcase one theme with different perspective.  His artwork was also the part of exhibition. He also said that as an artist , it is my duty to showcase my country, its architecture and represent where I come from. He received the life time achievement award by Funun Arts, which is a prestigious award given for his contribution and support.

Mr. Fadi Musharafie, Manager said: He is glad to host this art exhibition along with Funun arts. As Pullman hotel represents art so this is the best way to celebrate Eid Ul Adha and create an artistic ambience for our guests. We are looking forward to do more such events in future.
Shiba Khan  thanks to  Mr. Abdul Mohsen Alhammadi, Chairman and Ceo of this beautiful artistic hotel, Anne Dayauon
Cluster Marketing Executive for making this event possible.
Funun Arts want to extent their heartiest thanks to Ms. Sonia Majeed, though she was not present there physically, she sent across her wishes.
Ms. Sonia Majeed is an aspiring Professional singer, First Asian female to sing UAE National Anthem. She is a global Good will Ambassador, Messenger of Hummanity and winner of international peace award.
Beside them there were many other distinguished guests who were present on the opening night of the exhibition.
Shiba khan, artist and founder of Funun arts also exhibited one of her artwork from her series "WOMEN". Art work shows a women praying and she said: Women is like a thread who keeps all the beads together with the power of her prayers". She also said that behind every successful women there is a women and she is her mother. Talking about art she said: I put expressions in my abstract style. Through my painting, I try to showcase different aspects of life.
Farah Khan, a photographer, food blogger, creative designer and co founder of Funun arts also exhibited her photograph. Her favourite subjects are old architecture, mosques, doors and nature. She displayed one of her mosque click. She said: Art influences society by changing opinions, instilling values, and translating experiences across space and time. … Art in this sense is communication; it allows people from different cultures and different times to communicate with each other via images, sounds, and stories. And my each click narrate a story.
Artist Doods Capiral from Philippine reflects his interest in travel, culture and people.His highest goal is to bring light, warmth and inspires others to embrace who they are.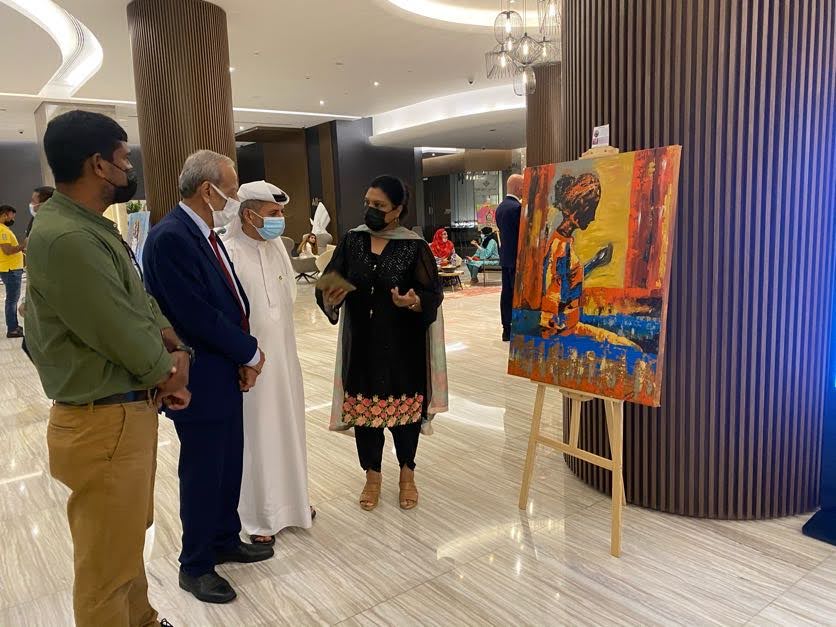 Imran Manzoor , excels in his way of painting, Artist from Pakistan showcased Islamic calligraphy in a very unique way. He is a award winning artist. Imran said: For him art is the best way to express and he loves to do Islamic calligraphy.
Tatiana Yatlo, another participating artist from Ukraine. She expresses feminism ,their beauty , emotions and character.
Kiran Salunke, an Indian Artist showcased his paintings which expresses the aesthetic love and devotion.
Zahida Muhammad , Pakistani artist showcased her artwork for the first time where she presented cursive calligraphy with different fonts and 3D style .
Sehrish Fatima paintings were inspired by her life experiences and colors. Her distinctive style evokes joy and peace.

Sahar Shahid and Yasmin Naeem showcased their Islamic calligraphy. Both of them have different styles and gives the message of love and devotion through art.
Beside these artist Poonam Chaturvedi, Payal Sharma, Jyoti Sachin and Kashish ( youngest artist) also exhibited their work. They said : we are glad to be the part of this exhibition. This type of platform is needed for an emerging artists.
Funun arts is not just doing events or art exhibitions but they are using art to express in the best way. Every project is setting a milestone in the art fraternity. Art with a vision and an intentional analysis. It is an artistic or creative cultural practice that may operate in traditional or non-traditional mediums, modes, or disciplines. … Preserve or reclaim traditional cultural practices using your artistic practice as a form of resistance or empowerment.