Although How To Start a Business Without Any Money was published in 2012 (a lifetime ago in our frenetic, tech-driven existence), the book is aging gracefully and still remains relevant today. Written by former Sunday Times enterprise editor Rachel Bridge, How to Start a Business Without Any Money is full of useful information for fledgling entrepreneurs, and reads like a laid-back, 21st century peice of advice from one friend to another. Bridge has authored five books on business and entrepreneurship in total, including the critically acclaimed How to Make a Million Before Lunch.
Because she writes in a casual tone, starting from page one, readers feel at ease with the level of know-how Bridge calls for. In this sense, the book's cover art is actually a little misleading, as it intuitively gives off a "no nonsense" business vibe, similar to books like What They Teach You at Harvard Business School or The Intelligent Entrepreneur. How To Start a Business Without Any Money shouldn't be mistaken for a hammy self-help guide. Bridge does not harp on the importance of harnessing the giant within or altering the way you think, but rather, offers practical advice for starting and scaling up a microbusiness, while simultaneously unveiling useful tech tips to streamline the process. Bridge takes the journey with you, chronicling the stages of her entrepreneurial-themed merchandise company (mugs, T-shirts, and more) as she writes each chapter.
Above all, Bridge's advice is geared towards helping your company earn more money online at the lowest cost. The information can also be used to turn yourself into a blowfish, meaning you can "puff up" your SME and boost its credibility in the bumpy early stages.
How to spend nothing on premises
The book strongly emphasizes not going out of your way to acquire resources. Instead, Bridge claims most would-be entrepreneurs already have everything they need at their fingertips. Wifi is ubiquitous these days, and various cafes around town can function as your daily workspace if need be. No board room? No problem. Bridge suggests meeting in hotel lobbies or renting out conference rooms for an hour or so at a time, as it's cheap and provides the right ambiance for business exchanges. What is more, places like hotels will also appreciate you and the professional-looking folks you bring in as props to make their building look like a bona fide beehive of activity.
Tech solutions for cutting overheads
According to Bridge, there are several websites that will help you save bundles. Mywarehouse.me, for example, will take delivery of your stock, deal with orders, pick and pack them and send them out to customers on your behalf. Users simply pay for the service as needed. There are no set-up or fixed fees involved, no minimum volumes, and no minimum contract. The book also preaches Moonfruit, Wix, and Basekit as the best free alternatives to employing a digital agency for your website design and development.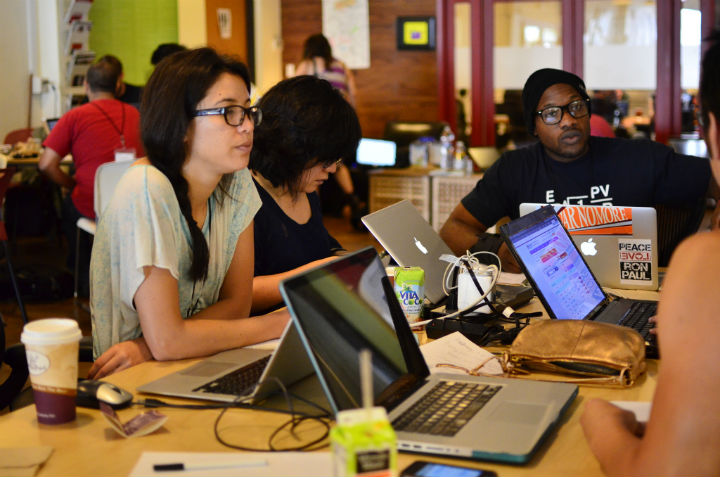 How to Start a Business Without Any Money stresses the avoidance of business ideas that require a certain number of people to sign up before they can function properly. This includes dating and property-finding sites, as well as online businesses that rely on advertising to generate revenue. Bridge cites advertising as a seductive idea, but goes on to mention that the model simply doesn't work for startups. Advertisers will not spend cash on sites that few people visit, and the simple fact is that not enough people will be visiting yours – at least in the beginning.
How to spend nothing on marketing, promotion, and advertising
Bridge covers everything in depth from social media campaigns to finding blogs relevant to your company, and putting together press releases. She also speaks plainly about her experience with Google AdWords and the significance of knowing exactly what you're doing before spending money on it. All in all, Bridge's book is extremely useful for first timers, but it doesn't share anything ground breaking for those who have already attempted (and maybe even failed) to run a lean and mean microbusiness. Regardless, Bridge is most definitely an authority, and How to Start a Business Without Any Money serves as a solid fixed point for new players who need practical startup advice.
Image of startup team via Flickr user Philippe Lewicki
Source: www.techinasia.com