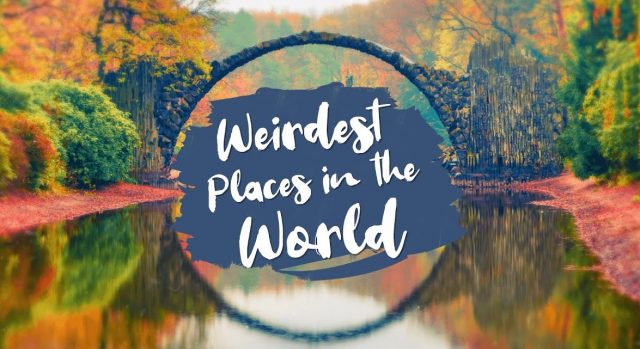 Where words fail, pictures do the trick. And in this blog, you require the pictures to understand the baffling beauty and sublime grace of some of the strangest places on earth. You will be shocked to read about some weird places in the world that are too shocking to believe. We have carefully shortlisted weirdest places across the world based on human interactions with these destinations. Take a look at the most bizarre destinations in the history of the world. You will be taken in by shock, awe, surprise, the entire spectrum of human emotions.
Spotted Lake, British Columbia, Canada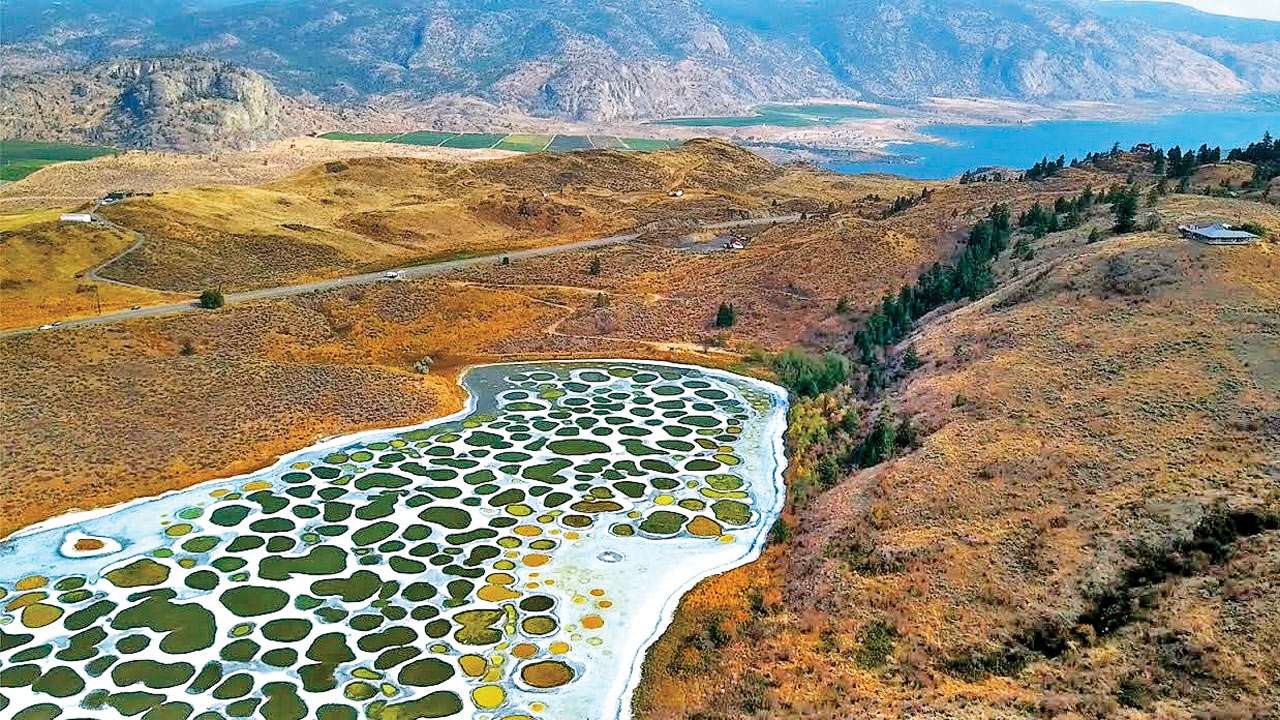 Spotted Lake has long been revered by the native Okanagan (Syilx) people and it's easy to see why they think of it as sacred. In the summer the water of the lake evaporates and small mineral pools are left behind, each one different in colour to the next. The unique lake can be viewed on Highway 3, northwest of the small town of Osoyoos, although visitors are asked not to trespass on tribal land.
The Giant's Causeway, Northern Ireland
Sixty million years ago a huge volcanic eruption spewed out a mass of molten basalt, which then solidified and contracted as it cooled, creating the cracks that can be seen today. There are an estimated 37,000 polygon columns at this World Heritage Site, so geometrically perfect that local legend has it they were created by a giant. It's a firm contender for one of the weirdest places on earth.
Thor's Well, Oregon, USA
In rough conditions at Thor's Well in Oregon, also known as Spouting Horn, the surf rushes into the gaping sinkhole and then shoots upwards with great force. It can be viewed by taking the Captain Cook Trail from the Cape Perpetua Scenic Area visitor centre – but for your own safety stay well back, especially at high tide or during winter storms.
Pamukkale, Turkey
A remarkable UNESCO World Heritage Site in southwest Turkey, a visit to Pamukkale (Cotton Palace) also takes in the ancient ruins of Hierapolis, the once great city that was built around it. Water cascades from natural springs and down the white travertine terraces and forms stunning thermal pools perfect for a quick dip.
Lake Hillier, Western Australia
This remarkable lake was discovered in 1802 on the largest of the islands in Western Australia's Recherche Archipelago. The lake keeps its deep pink colour year-round, which some scientists say is down to high salinity combined with the presence of a salt-loving algae species known as Dunaliella salina and pink bacteria known as halobacteria.
The Tianzi mountains, China
Found in the northwest of Hunan Province in China, these staggering limestone pinnacles are covered in lush greenery and often shrouded in mist. A cable car goes as far as Huangshi village and from here there are plenty of trails to take in the breathtaking views of Tianzi ('son of heaven'). Unsurprisingly they are the inspiration for the floating mountains in the blockbuster movie Avatar.
Socotra Island, Yemen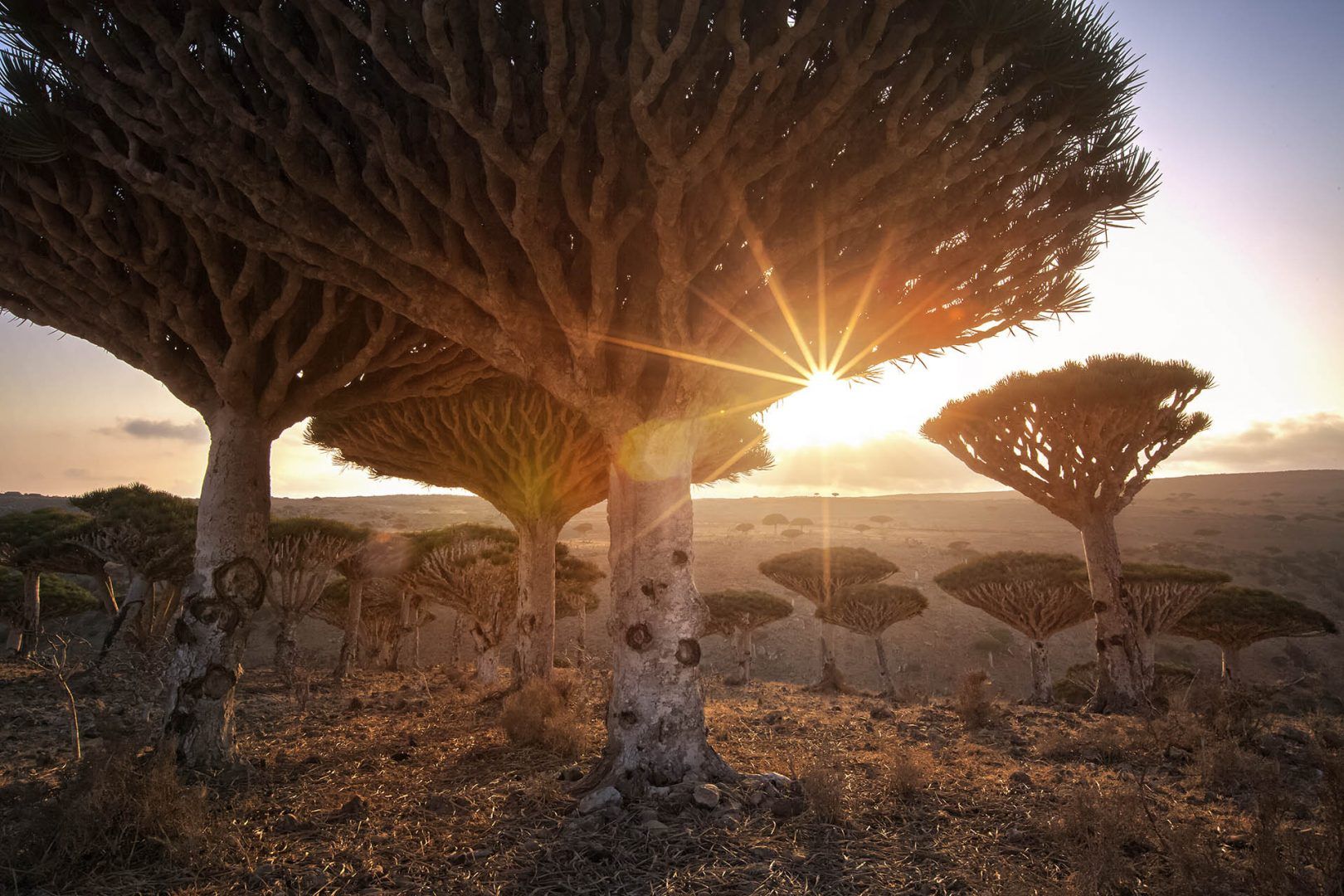 Separated from mainland Africa more than six million years ago, this remote island looks like the set of a sci-fi film. Socotra's incredible and unique biodiversity means that there are plants and trees here not found anywhere else in the world – particularly bizarre are the ancient and twisted dragon's blood tree and the bulbous bottle tree.
The Hand in the Desert, Chile
Chilean sculptor Mario Irarrázabal is responsible for this very weird work of art rising out of the sand in the middle of Chile's Atacama Desert, 46 miles south of the city of Antofagasta. Irarrázabal is known for his works associated with human suffering and this huge unnerving sculpture captures a feeling of loneliness, exacerbated by its desolate and secluded location.
Chocolate Hills of Bohol Island, the Philippines
Bohol's 1700-odd conical hills dot the middle of the island in the Philippines. They range in height but are so regular in shape that they could be mistaken for being man-made. However, according to UNESCO they are the uplift of coral deposits and a result of rainwater erosion. The hills only earn their 'chocolate' nickname in the dry season when the foliage goes from lush green to brown.
Plain of Jars, Laos
Shrouded in myth, megalithic stone jars are scattered across Xieng Khouang Province in groups from one to one hundred. A working theory is that the huge cylindrical jars were used in ancient funeral ceremonies, though local legend has it that the jars were used to brew rice wine for giants. In the 1960s Northern Laos was subject to a massive aerial bombardment by the USA and it's only been relatively recently that some areas have been cleared and declared safe for visitors.