I will not be doing justice to my new found passion for writing, until I write about the place which is probably closest to my heart and the place which I feel most Nostalgic about every time I am there or even see a picture of that small Paradise on Earth. Popularly known as "Queen of hills"…..Yes …I am talking about the"Summer Capital of British India" called Shimla  !!
Where the air is always filled with fragrance of Deodar and Pine trees, with rare variety of flowers and plants that impregnate the air with sweet aroma. Surrounded by green hills with snowcapped peaks, lush green slopes, scenic locations,  this small hill town offers you a heavenly feeling  so much so that once you visit this place you are bound to carry the irresistible feeling of falling in love with this place !
Shimla is a visual delight for all seasons. where tourists are rewarded with Soft Sun in summers, where one can see all three seasons in one day (at times during monsoon), the best sunsets in monsoon and where  winter is known as the season of Long Moonlight……
Come Winters and this small town turns into a wonderful fairyland of white beauty. The heavy snowfall usually beginning around Christmas time more often than not, ensures every inch of rooftops, trees, leaves, ropes and slopes get covered under a thick blanket of Snow. The surrounding hills and mountains get painted in white  by the snowflakes and present a heavenly look !
It is undoubtedly, the most romantic place for every young and not so young visitor at anytime of the year !
The locals are very simple, honest, and content with small needs in life. Despite some challenges during heavy snowfalls in winters the Shimlaites always wear a nice smile on their face and spread happiness all around !!
The unquestionable charm and beauty of Shimla has been attracting people from every corner of the world throughout the year. The Britishers ( pre-1947) were so fascinated by the charm of this town that they declared it the Official Summer  Capital of India. All the files and entire paraphernalia used to be moved from New Delhi to Shimla during Summers and the Government functioned from there for almost half the year every year and from New Delhi during the winters.
The best part is its connectivity by all modes of transport i-e Railways, by Road as well as by Air. None of the the other well known Hill Stations like Srinagar, Mussoorie, Nainital, Manali, Ooty, Dalhausie, Darjeeling, etc can boast of the connectivity by all three modes of transport !!
Source: http://ste.india.com
The toy train from Kalka to Shimla on the narrow gauge is a treat to the travelers. Passing through 103 tunnels and more than 800 bridges, this train called "Himalayan Queen" has been given the heritage status by UNESCO recently. The scenic beauty encountered during this train journey is just amazing. This railway link is a real engineering marvel as high number of tunnels and bridges had been constructed without affecting the natural beauty and terrain of this rout and that too in a relatively short time of about  6-7 years.
The Kalka Shimla rail link was commissioned and opened to public as early as 1903. The longest tunnel on this rout is the tunnel number 33 at Barog . Every local person including small kids have some special story to tell you about this particular tunnel. It is the longest of the total 103 tunnels en route and is about 1100 meters long.  It is known to be the straightest tunnel in the world. As per the sources, the station was named Barog after Colonel Barog, who was in charge of boring this Tunnel.
There is an interesting story behind this Tunnel. Colonel Barog, the British Engineer in charge, could not complete the boring of this Tunnel in the prescribed time  due to some miscalculations and was removed from duties and the unfinished task was given to another Engineer. Also, Colonel Barog was fined One Rupee as a punishment. Colonel Barog felt so humiliated and depressed that he committed suicide near that Tunnel. And since then the Ghost of Colonel Barog is claimed to have been seen in and around by several people till date !!
Without going further into the details of Ghost stories about this tunnel, let us get back to some other goodies about this rail link.
A single Coach called Rail Car is a white beauty which can accommodate about 15-20 passengers or more appropriately 8-10 couples, runs on this rail route twice daily . Travelling by this Rail Car between Kalka and Shimla offers you a really   Royal and romantic ride and is invariably the choice of newly wed couples going for their Honeymoon. You can imagine the "fun" the newly wed couples have  travelling by this Rail Car especially while traversing each one of the 103 tunnels, some of them one km long.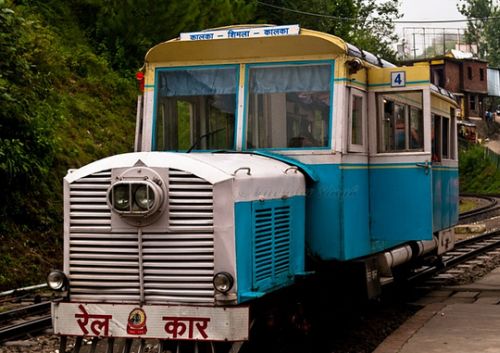 One of the best shots of this Rail Car can probably be viewed from the song  "Hawa Chale Kaise"……from the Bollywood movie 'Daag' starring Sharmila Tagore and Rajesh Khanna.
There appears to be some sort of hidden CONNECTION between Bollywood and Shimla. Otherwise what explains large number of Bollywood actors who were born and/or spent several years of their youth in this small town with a population of a few thousand only (presently- around 1.7 lakhs) To name a few: Anupam Kher, Raju Kher, Madan Puri, Amrish Puri, Prem Chopra, Balraj Sahni, Pran, Priety Zinta, Kalpana Kartik, Celina Jaitly and Priya Rajvansh ….are all Shimlites in some way or the other. Incidentally, the Khers and the Puris happened to be my next door neighbors !!
Shimla,  also happens to be one of the favorite movie locations for filmmakers. The pretty locales of the town, the Raj-style bungalows & Palaces, Shimla's railway station & the toy trains is what attracts Bollywood filmmakers. Several Bollywood Blockbusters were shot in and around this Queen of Hills for its Picturesque locations and heavy snowfalls during winters. :
 Love in Shimla , Tere Ghar ke samne, Who kaun thi, Jab we met, Black, Three Idiots, Gaddar Ek Prem Katha, Daag, Aa Gale Lag ja, Dost, Aaap ki Kasam, 1942- A Love Story and several other especially song sequences from bollywood movies shot in Shimla or around are embedded deep in my mind and keep haunting me (having spent the first sixteen years of my life there and countless visits to that place thereafter).The evergreen song " Naina Barse Rimjhim Rimjhim…….from Bollywood's suspense thriller "Woh Kaun Thi"  ( Sadhna- Manoj Kumar) was shot at various locations in Snow covered Shimla.
But the the song from "Aa Gale Lag Ja" ( Sharmila Tagore-Shashi Kapoor) shot in heavy snowfall in Shimla Hills :"Mera Tujh se hai Pehle ka nata koi…yuhi nahi dil lubhata koi"…..keeps haunting me for my eternal love for this small piece of heaven !!
Mall Road, which is the heart of Shimla, has maintained its majesty and grandeur since the British era. The Royal and beautifully maintained buildings including the famous Gaiety Theater, The Town Hall, General Post Office and several other buildings with British architecture add to the glory of Mall Road. Vehicular Traffic is not allowed on this  Here, you find yourself in the middle of what looks like a traditional English town, with its little shops and larger buildings in Victorian styles. Other cities, such as Mumbai and Kolkata, boast their share of British Raj Era buildings, but nowhere else in the country can one find such a concentrated area of relatively well-preserved and diverse colonial architecture..
During the Britishers' time, the Mall Road was reserved for them. My father who spent almost 40 years in Shimla used to tell me that "Average Indians couldn't walk on the Mall. You had to be dressed properly and educated, like a gentleman, because English ladies were on the Mall".
"The presence of unattached ladies, bachelors, flirts, match makers gave to Shimla its early reputation…. Early evenings on the Mall, was the customary place for building acquaintances…. Eligibles… socially desirable… all were on the Mall".   ——  Raghuvendra Tanwar, in "Shimla : Another age, another time".
Tourists as well as locals can have really delicious food in several  Eateries famous for well over fifty years now .The well known Baljees Bakery & Restaurant, Trishul Bakery (Favorite of Priety Zinta , claims the owner) Alfa Restaurant, Devicos, Indian Coffee House, Sher-e-Punjab,  and a string of several other joints offering tasty food and snacks .
The most famous landmark in Shimla is the "Scandal Point"on The Mall Road. A must visit point for everyone is located where the Ridge and Mall Road converge. This famous Scandal Point is the meeting place for locals, tourists and lovers. This is the spot where the British Viceroy's daughter and the Maharaja of Patiala, Bhupinder Singh used to have a romantic rendezvous in colonial time in 19th Century and the Scandal Point apparently got it's name in by the scandal caused by Bhupinder Singh, who eloped with the Viceroy's daughter at this very point in 1892. He was banned from entering Shimla thereafter and he made his own small hill town called Chail ( a famous tourist resort now) near Shimla. The Scandal Point is also famous for the statue of freedom fighter Lala Lajpat Rai there.
One level lower than Mall Road is the famous Lower Bazar, which has been the favorite of local population for shopping. Nathu Ram Halwai and Gujjar Khan Sweets located in this lower bazaar are the most popular sweet shops for probably more than fifty years . I have still not forgotten the taste of Dhoodh Jalebi of the most famous Nathu Ram Lachman Dass Halwai where my father used to take me frequently when I was a small kid !!
Located at the heart of Shimla the Ridge is A MUST VISIT place for every tourist. It is the social hub of the city. The Ridge is filled by tourists on various occasions especially in the summer festival, new year and Christmas. The place has to offer a beautiful view of the mountain ranges in Shimla. apart from just the beautiful location the Ridge is the home of many monumental buildings including the old Christ church which is probably the second oldest Church in north India built around 1850, it offers a treat to every visitor !!.
A trip to Shimla would not be complete without going to Lakkar Bazaar. Located next to the ridge, it is well known for wooden items from toys to lamps, and kitchen items to tables. This is the place where the famous D.A.V School is located where I studied up to eleventh standard and needless to say, it occupies a very special place in my heart !!
A steep climb to the Jahkhoo Hill, about 8100 ft above mean sea level, Shimla's highest point offers amazing views of the surrounding valleys, the snowcapped peaks and main shimla town itself. At the top is a Hanuman Temple, which is believed to be the point where Lord Hanuman stopped over while bringing "sanjeevni' for "Lakshman" !! It is also the home of countless playful monkeys waiting to be fed by all visitors. There is also one of tallest statue (about 108 feet) of Lord Hanuman located at the top of Jakhoo hill.
"Glenn" is located 5-6 kms from Mall is another beautiful tourist  attraction. Forest trees of pine and deodar surround it and act as a shade for picnickers. A bubbling stream known as Chadwick Falls flows through this place in which tourists take a joyful bath.
Your visit to Shimla shall become even more enjoyable if you try your hand at Ice-skating. The Ice skating sport of Simla is one of the most sought after adventure sport. This is the largest and one of the oldest Ice skating rink in India. It is also the only natural ice skating rink of India. This largest open-air rink attracts many tourists and locals who enjoy ice-skating. The Ice skating season usually begins in the start of December and goes on till the end of February. The sessions take place every day, twice a day in morning and evening.
Every winter, there is an ice skating festival that attracts a large number of tourists and locals. The place comes alive with festivities, feasts, carnivals and colorful fancy dress competitions for children. It is the time to enjoy the cold weather and indulge in not just sports but also enviable romance of some sorts ! So if you ever happen to visit Shimla in December, get set to see Shimla alive in the most vibrant colors.
The quiet and lovely suburb of Summer Hill, the last railway station before Shimla on the Kalka- Shimla rail link, has secluded, shady walks and charming views. It was here that Gandhiji stayed on his visits to Shimla,  and used to stay in a mansion that belonged to Rajkumari Amrit Kaur.
There are several small hill resorts within about  two hours drive from Shimla. Just to mention a few are : Kufri– The place known for heavy snow covered slopes in winter and offering Skiing competitions. The place has beautiful scenic beauty and has been the choicest location for shootings of several Bollywood songs .Chail- Another beautiful resort which boasts of being the highest cricket ground in the world. Wildflower Hall, Mashobra, Naldehra, and Tatta Pani are some of the other popular and most sought after spots around Shimla.
Overall, Shimla is not a place to read about or to see just once, it is a place to  experience and you are guaranteed to fall in love with this Paradise !!