SPARKLE GEMS & JEWELLRY EXHIBITION (20 – 22 FEBRUARY 2021)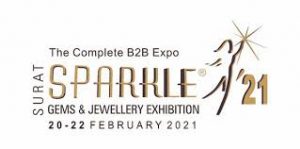 If you love your jewellery and hold it dearly, there's good news for you!
Surat sparkle 2021 is biggest gems and jewellery exhibition in Gujarat providing ideal platform for displaying latest trends in Gems and Jewellery. Surat Sparkle 2021 is B2B expo which will provide an excellent platform for buyers and suppliers to connect, network, exchange ideas, discover upcoming trends and generate business opportunities. In addition, the exhibition will continue to witness International Delegation from across the Globe.
Surat sparkle 2021 will be unique experience for the jewellery industry in India , as it will bring together high quality, original designs and high value for discerning selected trade customers who appreciate the finesse of fine Jewellery, Diamonds, Gems and pearls.
The timing to visit there is 10 AM – 06:00 PM
The Southern Gujarat Chamber of Commerce and Industry (SGCCI) is an ISO 9001:2015 certified organization. Established in the year 1940, SGCCI is the oldest apex body of Gujarat, with a total focus on growth and development of trade and industry of Southern Gujarat region which extends from Bharuch to Vapi AND Umargaon towards Mumbai, which is fast growing and one of the most prosperous parts of the state. SGCCI has a strong base of more then 9000+ direct members, 100+ associations with an indirect membership of more than 80,000 from a wide spectrum of trade, industry and professionals.
SGCCI has mastered the art of organizing Trade Fairs & industry specific Exhibitions for more than 25 years with focus on segments such as Textiles, Gem & jewellery, Yarn, Energy, food & agriculture, education, handloom & handicraft, automobile, engineering and heavy industries and showcasing products and services by women Entrepreneurs.
The sparkle exhibition was started by PM Narendra Modi.
The earlier editions of sparkle event were inaugurated by pm Narendra Modi and chief minister Anandiben patel
Highlight of this exhibition are:
1) One to one buyer seller meetings
2) Knowledge center
3) Couture jewellery pavilion
4) Seminar & conferences
Supporters of this exhibition are:
1) SURAT JEWELLERY MANUFACURERS ASSOCIATION (SJMA)
2) JEWELLERY MACHINERY & ACCESSORIES
3) SDA
4) SDB
5) GUJARAT HIRA BOURSE
6) ALL INDIA GEM AND JEWELLERY DOMESTIC COUNCIL (GJC)
7) DIAMOND INDUSTRY CAREER FOUNDATION (DICF)
8) MARRIOTT SURAT
9) AIRLINK THAT WORKS
10) RK INFRATEL
Southern Gujarat Chamber of Commerce & Industry ''samruddhi'', 4th floor, Makkai Bridge, napura, Surat – 395001.
Tel: +91 2612291122, Email: sparkle@sgcci.in
Digital marketing by renotechno.