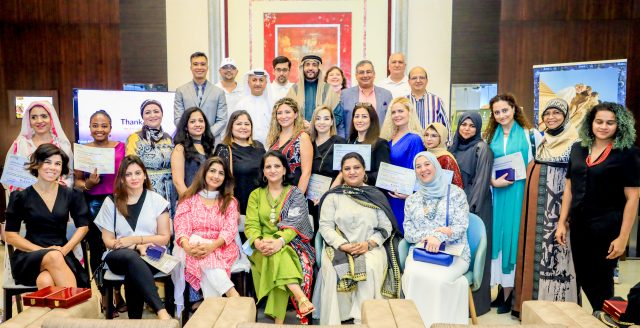 Balance is key. Balance is a virtue. Balance is next to godliness, maybe. We should all aspire to better balance. Too much of what is said in this world is one-sided, and we need more balance – in our speech, in our music, in our art, in everything
Funun Arts is famous for their unique themes and concept of the exhibitions. Funun Arts Group along with Novotel World Trade Center presented MIZAN: The Divine Path, an important collective art exhibition featuring more than 32 artists, 18 nationalities working with various media such as painting, drawings, and photography. Focusing on their most recent works, the exhibition runs from 20thJune to 30th, June 2022 and is unveiled in the Novotel World Trade Center.
Funun Arts underlies the plural identity of the gallery, bridging east, west north and south and fostering dialogue between cultures, temporalities and artistic expressions and mediums. They aim to visit the flow of energy stirring the creative languages of the artists. The exhibition pays tribute to the philosophical theme MIZAN featuring recent works by Alia Amin, Pakistan, Anna Wyborn, Russia, Anubha Kaw, India, Arezoo Rahmdel, Iran, Esther Soto Toranzo, Cuba, Georgina Molet, Spain, Inga Elser, Switzertland, Irene Gaitho, Kenya, Jivan Hovhannissian, Armenia, Kadambani Choubey, India, Kalopsia Wiz, India, Lina Chibly, Canada, Maged Makram Sheroubi, Egypt, Mahfuzur Rahman, Bangladesh, Maryam Taghikhani, Iran, Mrs. VG, France, Osama Elolemy, Egypt, Pari Sagar, India, Rafa Tom, Lebanon, Rafah Abdulrazzak, Syria, Rajia Hammour, Morocco, Sabeen Roshan, Pakistan, Sabrin Asker, India, Saida Banu, India, Saleha Hamza, France, Serina Pinherio, India,  Shoukry, Egypt, Shiba Khan, India, Stefania Pamillo, Italy, Tatiana Yatlo, Ukraine, Warda Rana, USA, Zahra Oji, Iran.
The event was moderated by Khan Ayaan Abdulla, the Founder of Youth Creative Minds Hub. He started the program by his words: "When I am in balance with the vibration of the sun, the moon, the stars, and the planets I am ultimately connected to the Universe. Balance and Rhythm are one of the principal translators between dream and reality." Khan went further and expressed his connection to the theme of the evening and how everyone can relate to it in a unique manner.
The opening ceremony of the exhibition was done by His Excellency Suhail Mohd Al Zarooni, founder of Zarooni foundation, (Guinness World Record Holder, A Philanthropist, An Author, An Emirati Collector, Ambassador at Large and Emirati Businessman.  Beside them were Anjani Prakash Laitu, legendary artist, Mr. Ahmed Rukni, Legendary artist and businessman, Samar Kamel, artist and curator of world art dubai, Irka Bochenko, A singer & a Hollywood actress, Sandy Rich Saksena, Global Brand Ambassador for Women's Choice by Mayshad Global Advisor to the board of Mrs. India Globe, Facilitator, Negotiator and personal finance influencer, Dr.Rubeena F. Malik: A Painter, Poet, Scholar, Global Learning & Development Expert, TEDX Speaker, Juhi Yasmeen Khan: Founder & Managing Director of JYK Community Services. SR Initiatives Expert & Consultant in UAE.
Shiba Khan, artist and founder of Funun Arts Group said, 'Happiness is not a matter of intensity but of balance and order and rhythm and harmony." When we find the natural rhythm and strike a perfect chord, we can sing our "own" song that will tune the signature of our life. Getting in balance is not so much about adopting new strategies to change your behaviors, as it is about realigning yourself in all your thoughts to create a balance between what you desire and how you conduct your life.'
Mr. Anoop. GM of Novotel World Trade Center said: Mizan refers to the Criterion of truth and falsehood and in all aspects of our lives balance is key. The meaning of balance goes much beyond the physical measure. Mizan indicates the golden balance in all spheres of life, also highlighting the importance of the quality of rationale.
His Excellency Suhail Mohd. Al Zarooni was highly impressed by all the work displayed in this art exhibition. He said" Art is the outcome of balance, balance of colors, balance of strokes and balance of imagination. We can experience it in each of the artwork.
Rafah Abdulrazzak, owner of Reem gallery who was the part of the event said: I as an artist and a gallerist believe that any art exhibition is successful because of few factors, one of the important one is the theme of an exhibition. Mizan is a beautiful theme, and it gives full freedom to explore their creativity and imagination to put it on the canvas. I am glad to be the part of this event and looking forward for more such platforms by Funun Arts.
Samar Kamel, an artist, and curator of world art Dubai said: Creativity is allowing yourself to make mistakes. Art is knowing which ones to keep.
Sandy Rich Saksena said: "MIZAN …. Balance and Rhythm of life is sync with nature and ourselves. The artwork of 32 artists brought this message out through their creativity imagination and thoughts. A wonderful awakening, thoughtfully mindful curated show by team Funun.
Juhi Yasmeen Khan said "It was such a delight to be able to experience the wonders of Mizan by Funun art at Novotel Trade center, being able to see all the beautiful art works and the dynamic and delightful artists behind each piece to be able to hear their stories, their experiences and their muses behind the art was an enlightening experience.
Dr. Rubina Malik told us that the balance is the core value which is required to make the life strong.
Farah Khan, a photographer, and co-founder of Funun Arts said, the success of any event, any company is based on the good and hard-working team and supporters. We are very lucky to have this in our court. We would really thanks to all our team, media, and supporters to believe in us and keep us motivated to go ahead. This exhibition Mizan is something which is one of our most important principals, to maintain the balance in whatever work we are doing, from planning to executing it and giving maximum exposure to the artists connected with us.
When asked to Funun Arts Khan sisters, they said: Like everything had its own power. Our core power is our artists, and we are thankful to all the art community to believe in us, and we promise to keep working in the best possible way for the whole community.
This exhibition sets an example and convey the message:
Earth and the entire universe are run by The Almighty with a perfect balance in every sphere of that vast expanse. Our lives are a mixture of different roles. Most of us are doing the best we can to find whatever the right balance is. A balanced inner calmness radiates from a peaceful center. It neither craves others' approval nor rejects others' presence. It neither pulls towards nor pushes away. It has a reverent attitude towards life and all its inhabitants. While carrying out our responsibilities on earth, each one of us will have to go through various situations and circumstances and deal with different people.  This forms a very basic system of collective life where we are required to fulfill our responsibility with care by dealing justly with others. Life is like surfing. Challenges, like tidal waves, must surely come. It takes a balanced life and a firm trust in God to ride the waves of life.
Funun Arts is a vibrant community of art galleries, visual arts, designers, photographers, and creative brains. This is an essential platform for the emerging artists, cultural practitioners, creative entrepreneurs, and homegrown initiatives. It is a non-profit platform where artists are given an opportunity to exhibit their talents in a space that is affordable and allows them the freedom to enhance their creativity. Funun Arts Group exhibits both locally and internationally, collaborating with galleries and participating in international art fairs along with doing number of shows in UAE. Now more than five hundred multinational artists are the part of this art community. Funun Arts is a one stop solution which creates a bridge between the artists, art collectors, art enthusiasts, architects, and interior designers.
https://fununart.com/Get Social: Instagram: @ fununartsgroup; Facebook: @fununartgroup