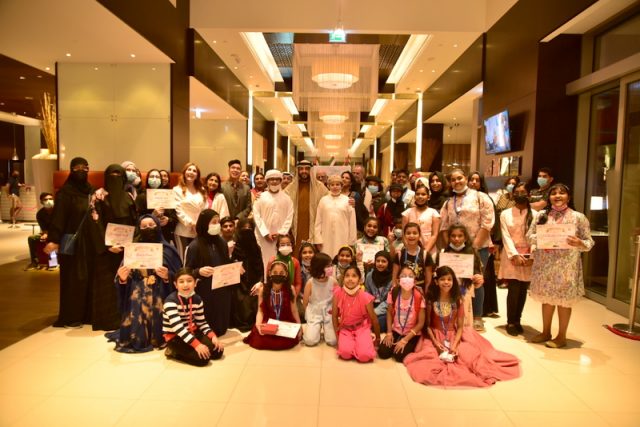 100 Artists : 50 Nationalities: 100 Artworks
70 Student Artists: 20 Nationalities: 70 Artwork
Human beings, their ideas, innovations, dreams, and connections are the capital of the future. Because where great minds go today, great things will happen tomorrow." Beautiful words by the visionary leader SHEIKH MOHAMMAD.
 The UAE is gearing up to mark its Golden Jubilee and on this special occasion Funun Arts is showing its gratitude by the mega celebration.
Funun Arts along with their venue partners Novotel world trade center and Ibis One Central, had organized a weeklong of art events.
*100 Artists /50 nationalities/ 100 Artwork:  Artists exhibition on 28th, November
*Live painting in Desert Safari on 29th November
*70 Student Artists/ 20 Nationalities/ 10 Schools/ 70 Artworks: Student Art Exhibition on 1st December
 *Collaborated live painting with children of determination on 5th December. 
 A week long extravaganza was well organized and experienced by everyone who attended the events, from the guests, artists, students to the art lovers. 
Artist Exhibition titled UAE: Spirit of union was hosted in Novotel World Trade center on 28th November under the patronage of His Excellency Suhail Mohd. Al Zarooni , chairman of Zarooni foundation and Zarooni group of companies. This mega event where 100 artists , 50 Nationalities exhibited their 100 artworks was a real beauty , which shows that art is the best way to bring everyone together on one platform to celebrate one motive and that's what is said the title of this exhibition SPIRIT OF UNION. Opening ceremony was done by His Excellency  Suhail Al Zarooni along  many other distinguished guests who experienced the beautiful and vibrant event. 
His Excellency said" We can see a variety of work and the expressive way of artists through their paintings. Each artwork narrates a story which is well explained by an artists and felt by the viewer. We are experiencing the whole world under one roof. It is like bringing the colors of the world on one canvas. 
Ahmed Al Awadhi, an artist and business man, known as Mr. Rukni in art fraternity said "Art is one of the main means of communication that can connect the world and it allows people from different cultures and different times to communicate with each other via images, sounds and stories.
Shiba Khan, Artist and Founder of Funun Arts shared her views by saying" UAE is the most colorful place in the world where we can see so many different nationalities from around the globe living together with love and harmony. This is like a garden with so many beautiful and different flowers. And as this is the golden jubilee celebration, it is the best time to salute this great nation. And as an artist and founder of the art group, I always feel that art is the best way to express. 100 artists with 50 different nationalities itself is the best example to experience the strength of this three lettered word ART. This time the whole world is celebrating the national day of UAE. We are proud to be the part of this celebration with our small contribution to it. We are glad to collaborate with the art gallery from Georgia , Iran and Russia. 
First Wish Art Gallery of Georgia exhibited in this mega event with 7 artists. Mariami Simashvili, owner of the gallery said" This is our first time in UAE and we are happy to be the part of UAE national day. We are looking forward for many events with Funun Arts. Dubai is very art and culture loving place."
GM of the hotel Mr. Anoop Dhondoo, feels proud to be the part of the mega celebration. After the pandemic this is the time to celebrate the 5oth year with full bang following all safety measures. As there are so many tourists, they can experience the harmony and strength of this great nation through this art exhibition which is full of diverse people showing their love by showcasing the artwork themed UAE.
Ms. Sultana Kazim sent her wishes and appreciation virtually.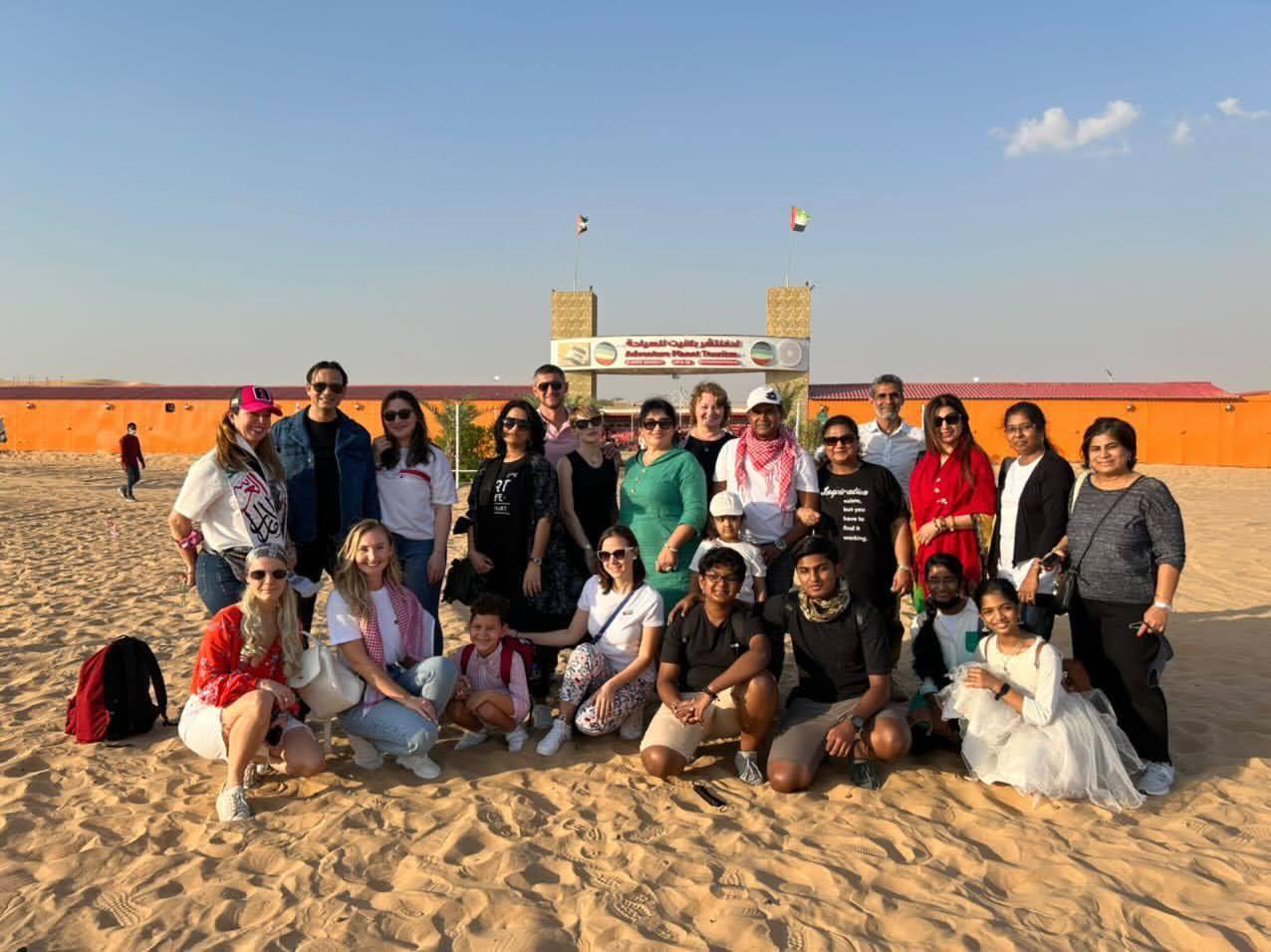 The second event was in the heart of desert. Live painting while enjoying the most happening attraction of UAE: Desert Safari. Artists enjoyed doing the live painting in the mid of the sand dunes enjoying the nature. It was like an art retreat. Artists from Georgia came especially to be the part of this mega celebration and it was their first time in UAE. Culture is the art elevated to a set of beliefs and exposure to the arts and culture is enormously valuable. This was brilliantly experienced by the artists from all around the globe during this live painting session.
Farah Khan , creative designer and photographer said" Art, a simple three-lettered word, has a broad definition. From photography, music, dance to painting, everything is a genre of art. Creating something without words, something that speaks to people, art is a language of its own. We see art everyday but how we see it is different"
This was not the end of celebration. Youth Creative Minds , a new addition of Funun Arts founded by Khan Ayaan Abdulla, organized  the student art and cultural exhibition on 1st December at Ibis, One Central, Dubai. YOUTH hosted 100 students, performers and artists from 20 different nationalities, 10 schools from across UAE lead by 10 mentors which all together made the event a beautiful fusion showcasing art and cultural programs reflecting on UAE's traditions and future vision. We can see the work of these budding artists which totally justifies the quote of the great artist Pablo Picasso "Every child is an artist." 
DPS SHARJAH was the cultural partner for this event. The evening started with the heartwarming UAE national anthem and the traditional UAE dance performance by the talented students of DPS Sharjah, followed by a spectacular solo keyboard performance by Sidhanth Menon, student of DPS Shajrah as well. Moving ahead, took place the art tour reflecting upon the past, present and the future of this great country as viewed by the young minds.
The opening of this exhibition was done by His Excellency Suhail Mohd. Al Zarooni along with the  Representative from DPS Sharjah ,  HOD's of International school of creative science  Sharjah, New Indian Model High School  Dubai, North American International School Dubai, JSS School, Dubai, Gems Wellington School Dubai , legendary artist Anjani Laitu , Ahmed Al Awadhi , Samar Kamal, Nada Al barazi, Afshan Quereshi, Pari Sagar, Ritu Chaturvedi. 
All guests present at the opening of the exhibition was overwhelmed by the artwork and cultural performance of these young talents. All parents present at the event really appreciated the initiative taken by YCM and expressed their thanks for providing this platform which is a big exposure for these young talents. 
Peter Gressman, Founder of Art forum UAE, Art Curator, Art Critic and Art Supporter appreciated the artworks of the students and said that these budding artist have lot of potential . The thoughts they put on the canvas is excellent . We should keep motivating them as to keep these bidding artist grow.
Khan Ayaan Abdulla , student of grade XI of DPS Sharjah is the young brain behind the YCM , Youth Creative Minds. He said " I want to create a platform for young generation which is the future of any nation where they can come forward, take initiatives, showcase their talents and unleash their creativity for creativity is what drives a nation towards greatness and youth is the way going forward. YOUTH for me stands for Young, Outgoing, United, Truthful and Honest. It's a vision that me and my brother, Mohammad Huzaifa Khan share to promote youth and bring them to light. We have planned a lot for this platform and a lot of activities coming around the year. I am sure we can contribute something to the society by having launched this hub.  "
Mohd. Huzaifa Khan, the young partner of YCM, who is a budding photographer and young activist believes that this type of platform gives sense of responsibility in the young generation. " 
This was the time where Funun arts grew bigger and stronger with many collaborations and patnerships. 
Funun Arts along with these young champs of YCM will be organizing their next event on 5th December. A collaborative live painting, where artists , students of determination and student artists joining hand together to create a master piece. This event will be hosted at Novotel, World Trade Center, Dubai. 
By this mega extravaganza we can see the strength of art and love of artists for this great nation. It is true how the people of the UAE are united under one flag, million hearts beat for the same vision, all in all holding strong to the culture and H.H. Sheikh Zayed's words. 
About Funun Arts:
Funun Arts is a non-profit platform where artists are given an opportunity to exhibit their talents in a space that is affordable and allows them the freedom to enhance their creativity. Funun offers them an experience they will cherish. Emerging as an innovative idea amongst a few artists in 2016, it soon took over the aspiring imagination of the Khan sisters, Shiba and Farah. Shiba Khan is an artist, Fashion Designer and art activist and Farah Khan is a photographer, creative designer and a food blogger.  Funun Arts has been widely appreciated for their initiatives towards social and noble causes for a better society, and has been engaged in offering a helping hand to those in need. They believe that art is not only brushes and canvases; it is also a form to communicate your thoughts without any constraint, and that brings about a sense of positive energy which brightens the spirit of the onlooker. Now more than 400 multinational artists are the part of this art community.
 https://fununart.com/Get Social: Instagram: @ fununartsgroup; Facebook: @fununartgroup
About YOUTH CREATIVE MINDS (YCM)
Youth is Khan's thought that came to him in early April and was launched under the umbrella of Funun Arts on 6th October. The sole thought of launching a hub for students was to make a platform for youth to express themselves. The name YOUTH in itself comes from 5 other words which speak for themselves; Young, Outgoing, United, Truthful and Humble. Ayaan believes creativity to be the only catalyst for self-expression and connecting communities. Youth is the way forward and he wants to inspire others towards this thought. YOUTH will be hosting various events to make this platform a hub for every talent; art exhibitions, live arts, workshops, photo walks, talent shows, open mics, podcasts and so much more! Speaking of podcast, YOUTH will be launching the first podcast series this month. Express yourself and open up your hidden talents… this is what Khan Ayaan's aim is, to bring to light the hidden talents. Now, youth from more than 25 nationalities have joined the hub. 
Anyone in the 9-25 year age group is very welcome to join the hub and can mail on the below given email address.