Annual Student Art show in October with the theme "We Can Change Climate Change."
Dubai experienced one of the Gulf region's largest and most extraordinary youth event: "The Annual
Student Art Show (ASAS)" on 7 th and 8 th October 2023. Set in the academic and artistic atmosphere of De
Montfort University, Dubai, it was an initiative that blends art, culture, and environmental awareness.
The event was supported by the Ministry of Climate Change and Environment, UAE. The organizers of the
Annual Student Art Show are Shiba Khan and Farah Khan of Funun Arts Group and Khan Ayaan Abdulla
and Mohd. Huzaifa Khan of Youth Creative Minds (YCM) Hub.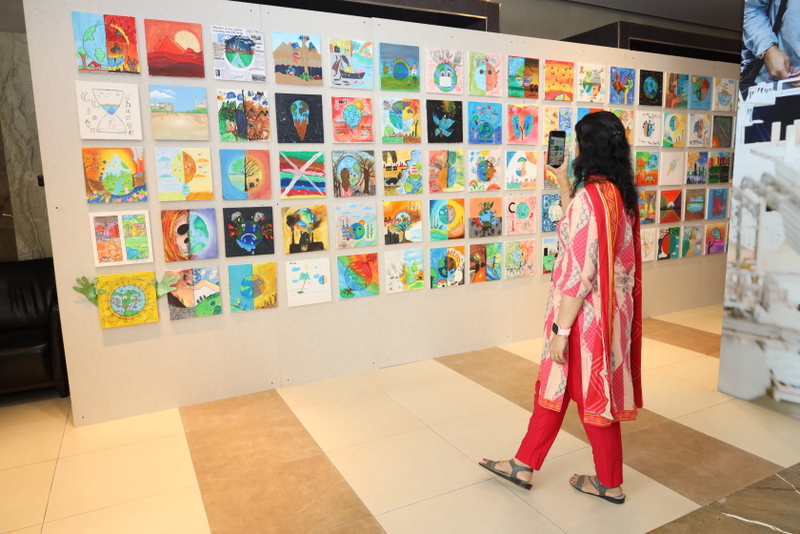 700+ students from 50 different nationalities showcased their artwork. 35 Global Mentors, 15 Youth
Ambassadors and over 50 Youth Volunteers were involved in the event. It explored the theme 'We Can
Change Climate Change' for students in the 5-25 age group. This captivating and no less essential theme
had been carefully chosen as a follow up on the ASAS previous edition's 'UN's Sustainable Development
Goals' drive. The primary aim was to raise awareness about the pressing issue of climate change and
motivate individuals, particularly youth, to act on the worsening climate conditions.
The event was inaugurated in the presence of esteemed honorable guests His Excellency Suhail Mohd. Al
Zarooni, Chairman of Al Zarooni Foundation, Mr. Khalil Abdul Wahid, Director of Art & Literature Dubai
Culture, Ms. Daleya Uddin, Head of Public Affairs and outreach, US Consulate, Dr. Sana Sajan, Director,
American Aesthetic Medical Center, Danube, Mohammad Issa Al Rawahy, Prof. English Literature, Oman.
Dr.Harmeek Singh, Founder & Director, Plan B & Dubai Women Run, Prof. Ramachandran, Chief
Academic Advisor, De Montfort University, Dubai, Ms. Harjyot Oberoi Bohra, Head Magazines, and
Promotions, Khaleej Times, Ms. Safiya Bari, Founder of SNF Development Center, Dubai, Ms. Zoubiya
Ahmed, Vice Principal, International School of Creative Science, Sharjah, Ms. Rose Mccauley, Vice
Principal, North American International School, Dubai, Ms. Daizy Paul, Principal, Ryan International
School, Sharjah. Mr. Fahd Kahlaoui, Vice Principal, International School of Creative Science, Sharjah,
Bassam Nader along with many other dignitaries.
The three esteemed Jury for the event was Ms. Nada Al Barazi, an internationally acclaimed & award-
winning artist, Mr. Ihsan Al-Khateeb, a pioneer artist & art Instructor and Mr.Marwan Karout, an
accomplished Lebanese- Canadian artist.
Welcoming of the guest was done by the Punjabi Dhol followed by the red carpet opening and the
exhibition tour. The opening ceremony started by Quaran recitation, followed by UAE and India National
Anthem and then a mind-blowing singing performance started my three kids Maryam, Azaan and Wali,
followed by all volunteers, youth ambassadors and mentors along with the founders and organizers
Shiba Khan, Farah Khan and Huzaifa Khan and it was then accompanied by the whole crowd in the
auditorium. We experienced beautiful performances by students of determination from SNF
Development Center and a thematic dance by the students of Dance Central, who were supported by all
the students and parents sitting in the auditorium with the flashlights of their phone.
The event was then taken a step towards variety of houseful workshops and masterclasses which were
conducted by Mentors, Nikon, Unique world robotics, Trusity, Counsellors and Dress my craft.
Mr. Khalil, Director of Arts & Literature, Dubai Culture said: "The theme 'We Can Change Climate Change'
captured the determination to bring positive change, ring in responsibility for our planet and gives a
glimpse of the possibility of achieving it. It reflects the belief that we, as individuals and collectives, have
the power to confront and combat climate change."
Shiba Khan and Farah Khan, Founders of Funun Arts, said that this event is a groundbreaking one and a
pioneer that combines art, culture, and environmental awareness. Through the theme 'We Can Change
Climate Change', ASAS had inspired and empowered youth to take action against climate change with
their boundless creativity and unleashed energies.
Mr.Marwan Karhout and Mr. Ihasan Khateeb, esteemed juries said:" By highlighting the importance of
individual action, the theme aimed to encourage people to do their best to prevent environmental
deterioration and destruction and mobilize communities to adopt sustainable practices. More
importantly, it seeks to inspire a belief that change is possible and that everyone has a role to play in
creating a better future for our planet."
Ms. Nada Al Barazi, one of the esteemed juries said:" All the artworks were excellent and so much talent
we experienced under one roof. It was a tough job to select the winner, but we really enjoyed the whole
journey and appreciate the remarkable achievement of the organizers."
Involving youth in this mission is crucial, for many reasons. Young people are the torchbearers of the
future, and their involvement ensures continuity in environmental efforts. Khan Ayaan Abdulla and
Mohd. Huzaifa Khan Founder and Director of Youth Creative Minds Hub, stresses how youth bring fresh
perspectives, innovative ideas and irrepressible enthusiasm to causes – which makes them powerful
agents of change. By engaging youth in this mission, YCM Hub offers a platform to them for contributing
meaningfully, helping them shape their own futures.
Saida Banu and Kavita Sriram, the core team of Funun Arts Group, said, "Art is one of the best
instruments that can be used for self-expression and to bring about change. Art has the remarkable
ability to capture feelings, rouse emotions, and ignite conversations. It transcends language and cultural
barriers, making it also an ideal medium to raise awareness about climate change.
Ms. Harjyot Oberoi, Brand and marketing manager, Khaleej Times said" Through visual arts, cultural
performances, installations and an interactive exhibition, ASAS had created a unique atmosphere that
promotes dialogue, reflection and mediation. It had encouraged visitors to think before they act and
inspire them to adopt a sustainable lifestyle that helps and heals the environment."
YCM Hub and Funun Arts, the driving forces behind this grand event, consist of a sponsors and supporters. Shiba Khan and Farah Khan extended their thanks to Danube Properties, Reem Art Gallery, Ahmed Al Maghribi, Unique World Robotics, Trusity, Box Vox, The Green Revolution (Corporate Susutainable partner), Pothos Green, Pink Pepper, Malgudi Resaturant, Jones the Grocer Express, Skribl Box, Elevision, Dress My Craft, Al Saqf Al Lamea and Speed Performance Building Contracting Company LLC. Beside this the team of youth ambassadors, mentors, schools and university partners. These passionate individuals and institutions are committed to fostering environmental stewardship and heralding sustainable practices in the Gulf region. They are actively involved in organizing the art and culture show, ensuring that it becomes a transformative experience for all participants and stakeholders.
Parents of the participating students told us: "Participating in the Gulf's largest art and culture show offers students a unique opportunity to become catalysts for change by being part of the art exhibition and competition, masterclasses and workshops, the youth speaker forum and panel discussions, cultural performances, and much more, over two days."
Let us come together to celebrate the blend of art and environment and empower one another with the power to change climate change, once and for all with the slogan of the show:
"WE CAN CHANGE CLIMATE CHANGE"
The team of ASAS- 39 Mentors from UAE, Saudi Arabia, Oman, Congo, Bangladesh, India, Canada and Nigeria.
Dr.Hafsa Banu, Aditi Jaju, Dr.Amal Ezzat Soliman, Arezoo Rahmdel, Sumedha Randev Goel, Susmitha Dhruva Chitradurga, Dr. Nafisa Sayed-Motiwala, Nishtiman Ghaderi, Srirupa Bose, Ishrat Ara Abid, Kadambini Choubey, Kavita Sriram, Leena Kewlani, Leena Thawrani, Mahfuzur Rahman, Monica Ahuja, Moona Mohammed, Mrinmay Sebastian, Mussarat Yasmin Abid, Rafah Abdulrazzak, Ritwika Chaudhuri, Saida Banu, Saima Furqan, Soobika Fawad, Stefania Pomillo, Madhuri Musani Pattani, Juveria Mohiuddin, Yuvika Garg, Ameena Naim, Asmaa Samir, Fathima Azha, Kainat Aslam, Kashish Rabban, Marwa Mohamed Salah and Rehab Ali Bader. 
The winners were-
Category 1 (5yrs – 10yrs): First- Inaaya Malek, Second- Nazmin Rasheed and Third- Aryan Singh
Category 2 (11yrs – 15yrs): First- Masah Iyad, Second- Aisha Ahmed Saad and Third- Kalpita Sajnani
Category 3 (16yrs – 25yrs): First- Leen Ahmad Dana, Second- Mishka Punjabi and Third- Fairuz Faria Saika
Apart for these, there were 3 Global winners, one from Bangladesh Adeela Afzal and two from Oman Vaibhavi Singh and Jeffin Antony (both were Students of Determination).
Apart from mentors, there was the team of our 18 super talented Youth Ambassadors and Youth Speakers- Aisha Nassor, Akarshita Yadav, Ayesha Fatima, Gauri Nanda, Hilda Helen Marie, Hitakshi Aggarwal, Janoah N. Sual, Kiara Kaur, Mira Singh, Mohd. Huzaifa Khan, Neeti Dnyanesh, Nuzhat Mahdiyat, Shyam Manikandan, Sienna Carmen Peters, Sumayyah Faridi, Tamanna Mishra, Yomna Ghaneb and Zayed Munir.
The event was hosted at the De Montfort University, Dubai. As an empowering British university, DMU has offered premier education since 1870. The branch campus in Dubai, commonly known as DMU Dubai, offers Foundation, Undergraduate, and Postgraduate programs in Engineering, Management, Design, Computing, Psychology, Law and more. These programs cater to student's diverse needs and aspirations in the Middle East and Global region. DMU Dubai provides a unique opportunity for students to receive a world-class education while immersing themselves in Dubai's vibrant culture and business environment. DMU's numerous accolades further bolster its reputation as a top British educational institution in the UAE. It has been recognized as one of the top 20 UK universities for helping students transition into the workforce. It has also received the prestigious 5-star 'excellent' rating from QS, highlighting its commitment to providing an exceptional education. These achievements reflect DMU Dubai's dedication to offering students a world-class learning experience in Dubai's dynamic and thriving business environment. As an engaging university, DMU Dubai promotes industry networking and cultural backgrounds. For more information visit www.dmu.ac.ae
About Youth Creative Minds Hub- 
YOUTH Creative Mind hub provides a platform for the youths of the world from all walks of life to unleash their creativity, skills, and knowledge to express themselves as creativity is the only catalyst for self-expression and connecting communities. They hold our pride in youth through events, exhibitions, art talks, and so much more, all run by youths!
About Funun Arts Group-
Funun Arts Group is a thriving community that celebrates the diverse talents of artists, visual arts enthusiasts, designers, photographers, and imaginative individuals. Established in 2016 by Shiba Khan and Farah Khan, Funun Arts provides a valuable opportunity for artists to showcase their abilities that encourages the exploration of their creative potential.
Beyond its artistic endeavors, Funun Arts has garnered widespread appreciation for its commitment to social and noble causes. The community's ultimate goal is to contribute to a flourishing and evolving arts ecosystem in the UAE, achieved through impactful exhibitions, diverse programming, and in-depth publications commissioned by the gallery. The group also organizes live painting events, art workshops, community art events, team-building workshops, and more. In addition to its diverse initiatives, Funun Arts Group places a strong emphasis on engaging and empowering the youth through its dedicated platform called the "Youth Creative Minds Hub." 
With over 1000 multinational artists now part of its community, Funun Arts serves as a comprehensive hub that bridges the gap between artists, art collectors, enthusiasts, architects, and interior designers. Through local and international exhibitions, collaborations with galleries, participation in art fairs, and numerous shows in the UAE, the Funun Arts Group showcases its talent on a global scale.
Get Social-
www.fununart.com
Funun Arts Group- https://www.instagram.com/fununartsgroup/
Youth Creative Minds Hub- https://www.instagram.com/ycmhub/
Annual Student Art Show- https://www.instagram.com/asasycmhub/
For more details reach out to us through Whatsapp/ Call on +971 557560845 / +971 563917547 or via email at [email protected] or [email protected]