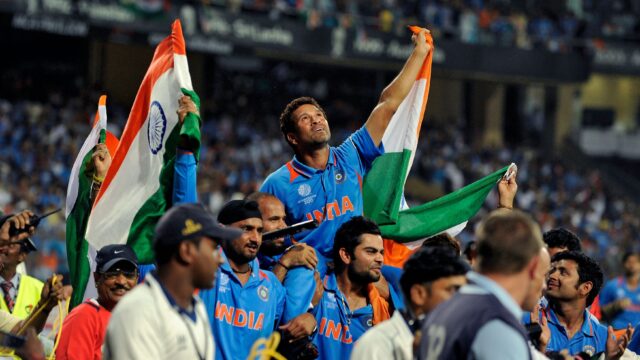 In a country divided by religious feuds and discrimination, cricket is what moulds people from all walks of life into one. If a cricket match is involved, the average Indian will take a rain check for most things. This is the country where Test matches take place not only on vast grounds but also in the narrow balconies like those in Mumbai's chawls. This is the country where children idolize cricketers and each child dreams of being the next legend in world of cricket.
Cricket in India is more than a sport; it's a way of life. I still remember summer vacations of my school days that were spent with countless hours of cricket, with breaks for lunch. The only reason play was called off was when we went past our curfew limit.
Cricket telecasts, especially when India was playing, was an occasion for a family get-together. For that matter any match which consisted of evenly-matched teams was fair game. The passion for the game runs through the veins of every Indian. It is his nirvana. It is his idea of a day spent well.
A favourite occupation of Indian cricket fans of varying ages is comparing cricketers of the past with the present. The older 
generation will recall the exploits of Sunil Gavaskar, Kapil Dev, Mohinder Amarnath and the famous spin quartet…  They will happily remind the modern generation of the year 1983 and India's only World Cup victory. The modern generation will, of course, swear by names like Sachin Tendulkar, Rahul Dravid, Sourav Ganguly and Anil Kumble.
India has come a long way from its embarrassing infancy to being the No 1 side in world cricket. Such are the expectations of the Indian cricket fan that if the Indian team loses, reactions are in the extreme and emotional – especially if the loss is against Pakistan.
Cricket today is not only limited to the real world but has stepped into the virtual world as well. With the advent of gaming consoles and computer games, cricket is played by youngsters without leaving the confines of their dwelling.
The passage of time has brought an attitudinal change among Indian cricketers.  It's the young brigade that heralded the change. Gone are the days when Indian cricketers submitted meekly to criticism and sledging. Players like S Sreesanth and
Harbhajan Singh are as good as anybody when it comes to aggression and sledging – provoked or otherwise.
The game may have changed as have formats. But if there is anything that hasn't changed it's the passion and the exuberance of the Indian cricket fan. That is as magical as ever!