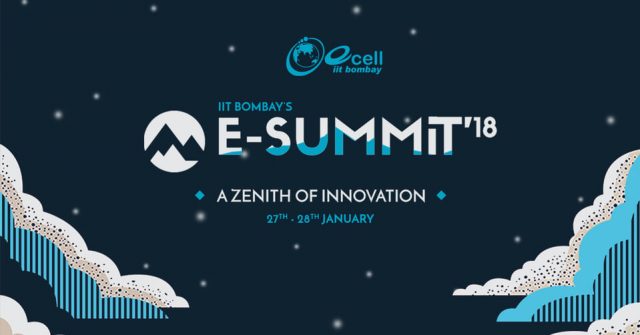 E-Summit short for Entrepreneurship Summit is widely known entrepreneurship and
business conference across India. It is organised by Entrepreneurship Cell, IIT
Bombay. Recognised as their annual flagship conference, it serves as a great platform
for the students to interact with the professionals and vice-versa. The events
conducted in the two day conference will give you the reasons to startup your own
venture. E-Summit believes to provide quality experience to the attendees thus they
line up best of the best speakers from all over the world. Some prominent names are :
Travis Kalanick(Co-Founder, Uber ), Indra Nooyi(CEO, Pepsico), Bibop
Gresta(Chairman, Hyperloop Transportation Technologies), Alan Mamedi(CEO,
Truecaller), Neal Cross(CIO, DBS Bank), Patrick Bet-David(Creator,Valuetainment),
Werner Vogels(CTO, Amazon), Michael Spiegelman(VP, Netflix) and motivational
speakers like Pa Joof, John Rampton, John Bates, Jim Beach and others galore the
world. For investors and professionals too E-Summit has a series of Networking event
and Conclaves.
Here are the key highlights of the E-Summit' 19: 'Paradigm of Disruption'
Internship & Job Fair
E-Summit hosts an arena for internship and jobs, for students. It is a great
opportunity for startups and students both to interact. Students can submit their CVs
and resumes on the spot and give interviews for different startups.
Workshops
E-Summit'19 will be conducting workshop on following 13 topics:
● AI and IOT
● Ethical Hacking
● Android Web Development
● Augmented Reality
● Lean Six sigma certification
● Lean startup methodology
● Idea Generation
● Idea Acceleration
● Webpreneurship
● Stock Management
● Brand Management
● Digital Marketing
● Chat conversation
Hackathon (I-Hack)
E-Summit brings together India's best coders, developers, designers, innovators,
creators and entrepreneurs of tomorrow. I-Hack is geared up for those who are
passionate about building, designing and innovating. It is a 48 Hr event where the
enthusiasts meet, develop and compete in the product prototyping competition. It
encourage all kinds of ideas, whether it's a proof of concept, looks-like-works-like
model or a prototype. It runs in two category: Hardware and Software. Total prizes are
worth INR 2,50,000.
Conclaves
Conclave is a set of speaker sessions which is targeted towards people who has a great
knowledge about particular sector. Startups can showcase their product and a great
place to network. Following conclaves are going to happen.
● Business Conclave
○ HR Conclave
○ Finance Conclave
○ Operations Conclave
○ Data Conclave
○ Marketing Conclave
● Innovation Conclave
The Ten Minute Millions
The Ten Minute Million,full for TTMM is a platform where you get 10 minutes to
impress the pool of investors and win million. With 1 out of every 2 startups winning
investors' praise with their pitches and a prize worth INR 1.6 Million for every
successful pitch, the event has received wide acclaim from experts as well as media.
The investor panel consisted of renowned investors like Ravi Gururaj, Ajeet Khurana,
Kunal Shah, Sunil Kalra, Aniruddha Malpani, Anupam Mittal and many more. TTMM
has garnered a lot of attention from media in its past three editions and has helped
many startups reach milestones in their journey. One of the successful startups is
Soundrex, who came up with a wearable speaker which will provide an experience of
being immersed with thousands of speakers all around you. With control over tens of
thousands of speakers, they created sound effects which were impossible using a 2
speaker setup. Startups can submit his/her startup details and a pitch deck at
ecell.in/esummit/ttmm/. Registration ends on 15 Dec 2018, followed by
announcement of finalists. The final 10 minute pitch will be on 20 Jan 2019 at IIT
Bombay.
BeAttractive is proud to announce BeAttractive -founder/ CEO Rajesh Bapodara as a Chief Speaker for the E-Cell, IIT Bombay for its 2-day annual flagship event, E-Summit'19, the biggest of its kind in South-East Asia! With a wide range of activities planned for you, you surely don't wanna miss this one!
When: 19th-20th January, 2019
Where: IIT Bombay, Powai.
#Summit2019 #beattractive
For more information and registrations visit ecell.in/esummit