"#ChooseToChallenge" was put together by the Funun arts founders Shiba and Farah Khan
Funun Arts is a nonprofit platform where artists are given an opportunity to
exhibit their talents in a space that is affordable and allows them the freedom to  enhance their creativity. Funun offers them an experience they will cherish.
Emerging as an innovative idea among a few artists in 2016, it soon took over
the aspiring imagination of the Khan sisters.
This beautiful exhibition was attended by many well known and prestigious
people.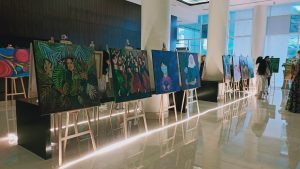 28 artists, 10 nationalities were the wow factor of this wonderful event. Hosted by
Novotel Dubai World Trade Center. A successful opening under difficult conditions taking precaution and maintaining social distancing rules. A challenged world is an alert world.
Individually, we're all responsible for our own thoughts and actions – all day,
every day.

We can choose to challenge and call out gender bias and inequity. We can choose to seek out and celebrate women's  achievements. Collectively, we can all help create an inclusive world. From challenge comes change, so lets all choose
to challenge.
As the theme for IWD 2021 is "Choose To Challenge", let's celebrate it &
express our thoughts through arts. Choose to Challenge is a group art exhibition
where not only female but also male artists exhibited their artworks to support
this year's theme of IWD.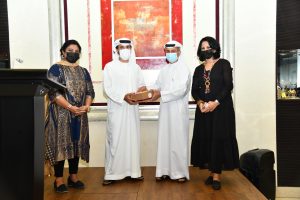 This ambitious project is held together by an evolving passion that can best be
described in a few lines:
"Coming together is the beginning,
Keeping together is the process,
Working together marks the success."