The magical words "Awaz ki duniya ke dosto" and "Pyare bhaiyo aur behno"  by a golden voice at the start of a radio programme called " Binaca Geet Mala"  for more than four decades still echos in our ears. The VOICE was provided by none other than "Ameen Sayani" and attracted lakhs of listeners who were glued to the wooden boxes like radio sets ( Philips or Murphy brand, generally covered by a fancy piece of cloth) just to listen to his VOICE, which was no less than a tonic for the ears !! Every Wednesday at 8 PM, the entire country as well as the neighboring countries had only one thing to look forward to and that was "Binaca Geet Mala" presented by the one and only Ameen Sayani  from "Radio Cylone".
Ameen Sayani was conferred "Padma Shri" in 2009 and Dada Saheb Phalke award in 2005, in recognition of his contribution to his work with  "All India Radio " and "Radio Cylone"  through his musical voice and unique style of charming the listeners irrespective of their gender, age or class for so many years !!
"Devki Nandan Pandey", also called father of News Broadcasting in India whose news reading motivated a whole generation of broadcasters, was another VOICE which we all heard for decades in Hindi News at 8 am every day. He was a newscaster par excellence. Incidently , my father had the privilege of working closely with him as he was also a News Editor with News Broadcasting section of All India Radio.
Another VOICE Legend, whom not many would have forgotton," Melville de Mellow" also worked with the All India Radio from 1950 to 1971. The most famous news reader in English at 9 pm every day. Demellow is remembered as an iconic broadcaster noted for his deep baritoned commentary of various events in independent India. He was also the commentator at India's Republic Day parade for several years and his commentary of India–Pakistan hockey matches are remembered to this day. He was conferred with Padma Shree by Govt of India in 1963.
Another Legend Jasdev Singh known so well by his famous voice on radio was actually inspired by Melville de Mellow. Padma Bhushan Jasdev Singh was awarded Life Time Achievement award by Dr. H. O. Srivastava, President World Development Foundation, India. Padmabhushan Jasdev Singh has the unique distinction of doing commentary of Independence Day functions at the Red Fort for 47 years. In addition, he had made the commentaries of Olympic Games , Asian Games, World Cup Hockey, a number of cricket matches and over 250 documentaries.
Amitabh Bachhan , better known as Sadi ka Mahanayak , has attracted millions of people by his VOICE , perhaps more than his acting. Be it his powerful dialogues  as an angry young man, or some of the romantic bollywood songs in his own voice or reciting his father Harivansh Rai Bacchan's  "Madhushala"…his VOICE made them immortal !!
Silken VOICE of famous Ghazal singer Jagjit Singh , Charmed his listeners all over the world and gave a new dimension to Ghazals only by his so called "Silcon Voice".
The most versatile VOICE  of Playback Singer Mohammad Rafi, sang all types of songs and became the heartthrob of millions of people across the globe.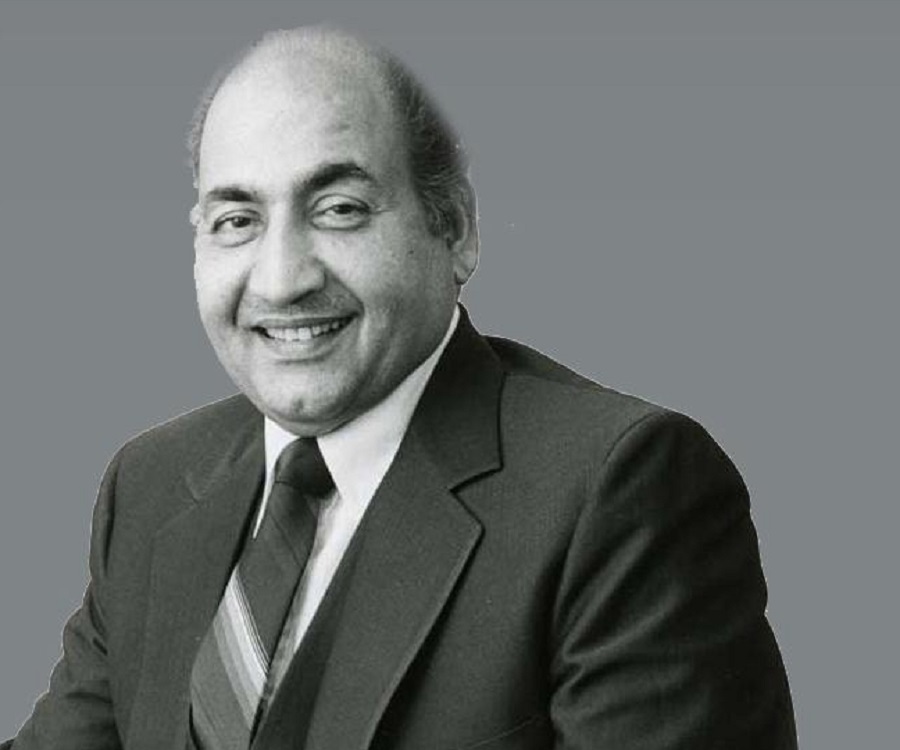 One particular song "Oh Duniyan ke Rakhwale…..comes to my mind wherein he had so many variation in his voice pitch and  every bit sounded so magical and people just loved him for that !!
The most gentlemanly  VOICE of  Playback Singer Mukesh left an everlasting impact on the heart and soul of hundreds of thousands of men and women all over the world ! My collegue and good friend Anjana who happened to be Mukesh's ( full name Mukesh Chand Mathur) niece, once told me…Even songs like " Ruk Ja O Jane wali Ruk Ja….which otherwise sounded like a song by a street romeo,  but when sung by "Mukesh Mama"  gave everyone a feeling that a Gentleman was singing !!  Such is the effect of pitch and texture of the voice
An old song or a ghazal, on radio by our favorite singer takes us to a different world for some time. One phone call from a beloved person makes our day. Sweet conversations with our loved ones remain embedded deep in our heart for years and sometimes life long ! Such is the impact of good Voice.
I have come across several cases when people have fallen in love with a VOICE without ever meeting, only by conversing over phone for years together . Although I am not sure what happened when they actually met . But one thing is very clear, one can fall actually and fiercely in love with a VOICE !! Which is ample demonstration of the proof that VOICE has immense power !
We cannot even imagine a world without voice ! The sweet nothings talked for hours together between  young and not so young couples on a beautiful beach , in a park or under soft moonlight in a hill station would be missing !! And the world would have been a boring numb place ….to say the least.
Voice is no doubt God gifted and some of us have a sweeter/melodious voice than the other. However, each one of us has a different and distinct voice.
But the big question is whether it be changed or improved…. The answer is yes! Simply because if it could not be changed then how is it that so many people can do the mimicry so well ?
We come across hundreds of Comedy Artists who have been entertaining us through their mimicry of several well known Singers, Actors as well as Politicians and Sports Personalities.
In a Classic and very famous case, of VOICE imitation,  in the year 1971 one Mr. Nagarwala called the Branch Manager Mr. Malhotra (over telephone) at the State Bank of India, and imitated voice of the then Prime Minister,Mrs. Indira Gandhi. Nagarwala claimed that the Prime Minister immediately needed Rs 60 lakhs and the receipt can be collected from the PMs office at a later date. The unsuspecting Manager got the money delivered to Mr Nagarwala . Later, Malhotra went to the Prime Minister's residence to get a receipt as requested, but was informed that no such request for funds had been made by the Prime Minister. Malhotra informed the police of the fraud. Within less than one day, Nagarwala was found and arrested at the airport, and the majority of the money was recovered.
So it is very clear that that VOICE has a big role in our personality. If made best use , it can turn you into a celebrity and you could entertain and charm hundreds of people everyday. It can play a big role in your success in many professions especially in Radio, TV, Tele-Calling , Film Industry,  dubbing in another language ,  Marketing , Advertising and so on…
When you meet a person for the first time, you look at his/ her face, expressions, way he or she has dressed up, and his/her body language and make some opinion. But, wait till he/she open his/her mouth and speaks the first few sentences !! your opinion can change drastically . The reason- his/her tone and texture of the voice, contents and the face expressions make all the difference and the true personality of the person is right in front of you !
However, if the person is not meeting you and is only communicating by voice over telephone, radio or other means, the only two things come into play i-e tone and texture of the voice and the content. While the content/text can be written beautifully by anyone else but finally it is the VOICE which will help you make the final impressions/opinion of the listener.
I read somewhere that "Nobody is a born singer or narrator or voice artiste, yes he/she may have a sweet, melodious voice by birth but still his/her voice needs to be trained enough to modulate, variate and able to perform professionally".
A few months back, I was invited to a workshop organized by VIVA Voice Academy, in Juhu area, by a friend. I had no idea about the event but on persuasion of my friend, I agreed to join the event.
And I am glad that I attended the event. For the first time in my life, I realized the there was much more to learn about this great gift of God , called voice,  than we understand. I understood that there are  Voice Academies and Voice Training Centers, which impart proper training to improve, variate and control your voice as per the requirement of the situation.
During the above workshop, I had the opportunity of getting introduced to the CEO and moving force behind VIVA Voice Academy, Ms Vandana Sengupta. At the very first glimpse, she looked a very warm, smiling, simple yet very confident person. After exchange of a few sentences, I became sure that she was an impressive personality and a thorough professional in the field of Voicing
When I asked Vandana Sengupta about her background and how she became a Voice Trainer or a Voice Coach… this is what she had to tell me :
"Being a merchandiser for a fancy diamond jewellery export house, roaming around the world, gold medal from World Gold Council, and to carry tag of NIFT India's premier design institute, was just not enough for me, a voice echoed inside me and my unusual dream to do something else, got conceived.
And I, landed in a theatre workshop conducted by renowned Nadira Zaheer Babbar, in the heart of Mumbai. On the last day of the workshop, Nadira ji told me politely holding my hand –  "bête tumhari awaz bahut achchi hai, kutch karna iska" and that was It. Unusual dream had a heart beat, started throbbing. God, planted desire, and started opening ways.
Soon, I met Mr. Vanamali in his office, with a zero idea of what voicing is all about. Vanamali ji, Dronacharya of voicing, Dada Sahib Phalke award winner, pillar of voicing in Bollywood, a great man, happened to be my voice teacher, my guru. And here started my unusual journey of VOICE TRAINING. Now there was no stopping, I got fully trained in a year's time , I was ready to face the auditions, and then, in no time, I was in front of microphone -my world, my dream. Giving voice to radio, television, from Santoor soap to dubbing for ghosts, E-learning, audio books, what not!! I loved when, my voice was loved. But this was still not enough.Started with handling full projects – from Ketan Mehta's  Ramayan dubbing to Meghna Gulzar's documentary on autism, e-learning, audio books and many more. And two years back my "VIVA Voice Acadmy" saw the light of the day!
Recently, I also happened to see a play "Ruk Jaana Nahin" directed by Vandna Sengupta wherein she had a small role as an actress also. I was mainly focused on her voice during the play. I was really impressed by the subtle changes in her voice in an emotional scene when she cried just after a few minutes of a very romantic scene when she laughed very joyfully. The variations of the tone and pitch of her voice were really very profound.
Her students from VIVA are working in TV channels, signed feature films, FM radio, as well as Vivid Bharti. I am sure some of them are going to be the Celebrities of tomorrow in their respective fields and bring laurels to Vandna Sengupta and her VIVA Voice Academy.
Well coming back to the main subject, I am totally convinced that just like your looks, make up, body, your dress up and mannerism contribute to your overall personality, your VOICE has a very significant role in determining your personality and Charm.
Let us see the difference between VOICE and NOISE …A few nice words in a sweet charming tone is a pleasant "VOICE" and act as music to ears, whereas, a few bad words uttered in a harsh and unpleasant tone lead only  to a disturbing "NOISE" which can further lead to all sorts of problems.
We therefore need to pay a lot more attention to our voice if we have to be successful in our personal or professional life. Some training and improvement in our VOICE can lift us up from an ordinary to an Attractive Personality. The best thing about voice is that it does not change much with passage of time and it is a treasure for ever !!
So, hear your voice, train it, improve it , practice it , and make it sweet, lovely, melodious, sexy, silky, impressive , smooth and attractive and make people fall in love with your VOICE and are forced to whisper words like :
Teri Awaz tere roop ki pehchan hai,
Tere dil ki dhadkan, mere dil ki jaan hai !
Na sunu jis din teri Awaz
Lagta hai us din, ye Jism hi baijan hai !!
– RAKESH MALIK