Cristiano Ronaldo Billionaire Lifestyle
Raised in a middle class family, his mother was a cook and father a municipal gardener. He was named after US President Ronald Regan.
Total earnings: $88 million / Rs.598 Crores
Each week Ronaldo earns £274,000 – that's an incredible £1,631 per hour
Soccer pay: $56 million / Rs. Crores
Endorsements: $32 million / Rs. 217.5 Crores
Nike, Castrol, Clear Shampoo and Banco Espirito
Ronaldo's cars:
he owns about 19 cars (Valued at $4.9 million / Rs. )
1. Bugatti Veyron
This car cost Ronaldo a cool $1.7 million.
2. Lamborghini Aventador LP 700-4
Bought in 2012 this fantastic car cost $318,000.
3. BMW M6
Ronaldo bought this stunning car in 2006 which cost him $102,000.
4. Bentley Continental GTC
This car was bought in 2007 and cost him $195,000.
5. Mercedes-Benz C-Class Sports Coupe
Another one of his cars bought in 2007 which cost $55,000.
6. Porsche Cayenne
This car was also bought in 2007  and cost Ronaldo $70,000.
7. Ferrari 599 GTB Fiorano
This outstanding car was bought in 2008 for $310,000.
8. Audi Q7
Another one of his fabulous car was also bought in 2008 that cost him $50,000.
9. Ferrari F430
This sports car was bought in 2008 which cost $300,000.
10. Porsche 911 Carrera 2 S Cabriolet
Ronaldo bought this car in 2009 which was $101,000.
11. Bentley GT Speed
Another one of his wondrous cars bought in 2009 which cost him $220,000.
SuccessStories
15 Things You Didn't Know About Cristiano Ronaldo's ( Richest Soccer Player ) Billionaire Lifestyle
PREV ARTICLE NEXT ARTICLE
12. Audi R8
Bought in 2009 this car cost him $150,000.
13. Audi RS6
He bought this Audi in 2009 the car cost him $80,000.
14. Maserati GranCabrio
Ronaldo bought this outstanding car in 2011 which cost him $140,000.
15. Ferrari 599 GTO
He bought this sports car in 2011 which cost him $385,000.
16. Porsche Cayenne Turbo
This stunning car cost him $96,000.
17. Mercedes-Benz C220 CDI
One of his earlier cars. This car cost Ronaldo $40,000.
18. Phantom Rolls-Royce
The Phantom Rolls-Royce was purchased for a sweet $200,000.
19. Aston Martin DB9
This Aston Martin cost Ronaldo $200,000.
Ronaldo's car collection is worth over a cool $4.9 million. The many worth millions passion for cars continues to grow, and so does his private collection. Which one of these cars would you like to own?
House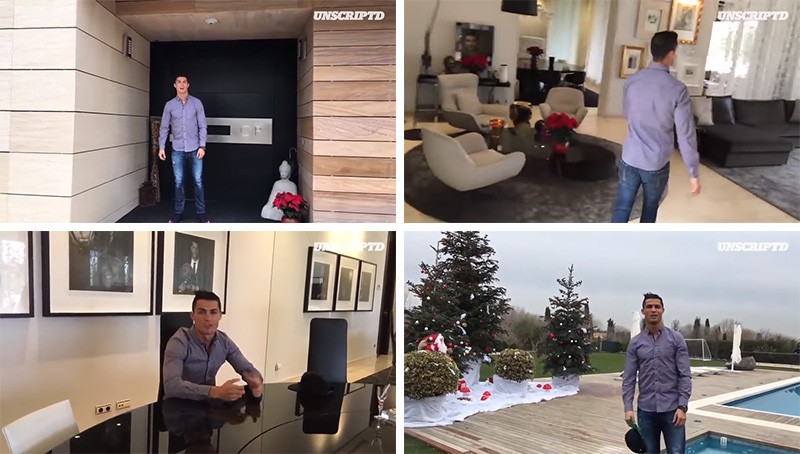 Mansion in Madrid – $7.2 million / Rs. 49.2 Crores
8600 square feet and is built in one story. The grand mansion boasts seven luxurious bedrooms, eight bathrooms, a trophy room and a number of kids' rooms. The house also boasts Cristiano Ronaldo's initials on various surfaces.
8600 sq. ft., 7 bedroom, trophy room
Alderley Edge Mansion, UK – Cheshire, England
Purcased in 2006 – $6 million / Rs. 41 Crores
The house has five bedrooms, swimming pool, sauna, gym, personal theater and media room
Apartment on Manhattan's Fifth Avenue, Trump Tower
$18.5 million / Rs. 126 Crores
2,500 square feet,3 BEDROOMS, marble-clad bathroom, stunning view of New York's skyline
Holiday Mansion in Izmir, Turkey
$3.44 million / Rs. 23.4 Crores
Turkey's western city of Izmir.
Source: millionairessayings1.com