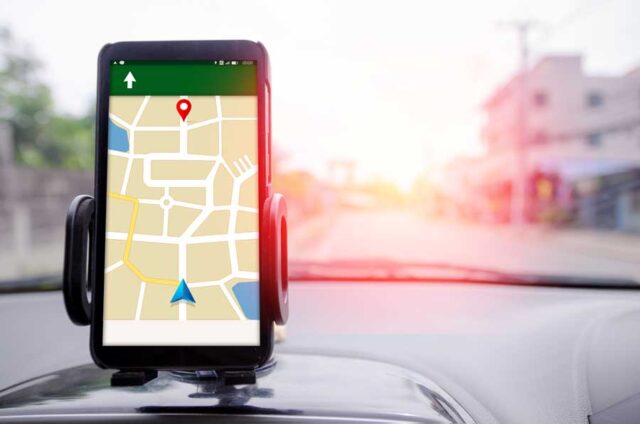 There are a lot of free apps for travel out there, and I mean A LOT. I have a bit of a thing of always wanting to find the quickest and easiest way of doing things (I like to call it efficiency) with the least amount of effort.
Some might call it lazy but hey, I'd much rather be drinking champagne at the bar than sitting on my computer or phone trying to figure out stuff. If it makes life easier, then I'm in!
I've tested out a bunch of free travel apps along with some great recommendations from my fellow travel bloggers and compiled a list of what I believe to be the top free travel apps. And with the exception of one, they are all available on iPhone and Android.
1. GOOGLE MAPS
I know, it's an obvious one but it deserves a mention. I LOVE my iPhone but the standard maps app drives me mental. Google Maps is just awesome and it definitely gets a workout when we're travelling. I love that it shows you multiple ways to get somewhere, real-time traffic reports and has a great search function so I can find the nearest Whole Foods (I love that place) when I'm in the US. And you can save maps offline for those times you're going somewhere without a good connection. There are also some crazy functions which I have yet to try like tracking your entire journey for a year, getting tickets for shows and going on a virtual trek to somewhere like Nepal. It's Google, there's always going to be a new feature or innovation in the works to keep it exciting.
2. SKYSCANNER
Recommended and written by Danielle Desir from The Thought Card.
One of my favorite travel apps is Skyscanner. I'm a big fan of their "search everywhere" and "cheapest month" capabilities. "Search everywhere" ranks destinations from cheapest to most expensive – this is great for travelers who are open to traveling to any destination around the world. On the other hand, "cheapest month" is great for travelers who are flexible with dates. I love that you can use both features at the same time or just one to find cheap flights.
Another feature that I love is Skyscanner's price alerts. Every morning I get a price alert letting me know of any fluctuations in price. I recently found a $245 round-trip flight from New York City to Mexico City via Skyscanner. I saved 50% on the average price and I'll be using my savings to buy an additional round-trip ticket to Guadeloupe in the Caribbean.
3. EVERNOTE
I don't know what I would do without Evernote. It's essentially a notebook on steroids. You can add notes, images and clip web pages all in the one app. I use it to write drafts of blog posts, save articles from websites, clip images, save recipes, save tips on places I am travelling to and much more. You can also add tags or create different notebooks to keep everything nice and neat.
Finding all those notes you've created is a cinch. The search function is amazing, all you need to do is type in a keyword and it will search through all of your notes in seconds. There is a Chrome extension available which lets you add things to Evernote from the web in one click.  Another really cool thing is that when you search for something in your browser, it will go through your notes and bring up anything relevant. Just in case you've forgotten that you had already saved something on the topic!
You used to be able to use the app across multiple devices but recently they restricted the free version to two. There is a workaround though, you can share notebooks with others. So for us, we just share a notebook and all of our notes in that notebook are available on our 4 devices!
4. DROPBOX
Along with Evernote, Dropbox is an app that we both use daily. We've been using it forever, even before we started travelling. Dropbox is a cloud-based filing system which you can use on your laptop, phone and tablet. I love being able to access all of my documents and images on any device. It's great for storing things like copies of important documents so that you don't have to carry them around with you when travelling. You can also share files or folders easily with other people which is great especially when the files are too large to send by email.
You can sync Dropbox with your phone so that all of your photos are automatically stored in the Dropbox cloud, but I prefer to disable this function so that I save room in Dropbox. Sign up is free and you get a certain amount of free storage space. You can get more storage space by referring friends or you can go to a paid version. We've never had to pay for Dropbox and we keep loads of stuff on it!
5. TRIPIT
TripIt is a nifty travel itinerary app which stores all of your travel plans in a very organised itinerary. Simply forward all of your flight, rental car and hotel confirmations to an email address and it will automatically create a travel itinerary for you. Alternatively, you can set it up so that it will search your emails for confirmations and automatically input them into a master travel itinerary. It will even update your calendar with your trip details if you want it to.
I love that you can also share trips which is a great way to let family and friends at home know where you are so they don't worry. There is a paid pro version which will do even niftier things like real-time flight status alerts, tracking reward points and notifying you when your favourite seat is available on a flight. We haven't upgraded to the pro version though, we're pretty happy with the free one!
6. WAZE
Recommended and written by Loredana P. from Earth's Attractions.
There are several apps I use while traveling (apps that help me keep in touch with my family and friends, apps that provide guides, etc.), but one that I find really useful when having to use a car (and I love to travel by car!) is Waze – GPS, Maps & Traffic. I use it almost anywhere – including in my hometown (Bucharest, Romania) – as this app is not just a GPS, but also a great tool to avoid heavy traffic.
It is constantly updated with information received from other users, so the standard GPS part is combined with these details to offer each user the best possible route while traveling. Like I said, I'm using this app both in my country and in foreign ones. It's perfect when you have a 14-16 hours drive to a city you've never been before, crossing several countries on the road (and this is just an example of a trip we took.) It's also perfect for short trips – and so far, this app was used by my family in the US and almost all over Europe and we never had issues with it.
7. SCANNABLE
This is the only app that isn't available in an Android version (sorry guys), but I felt it was worth mentioning. It's an Evernote product and has made my life easier on more than one occasion. Scannable turns your phone or tablet into a scanner. There have been many times when we have been travelling and we needed to sign and send back documents. Scannable made it super easy to do this.
You just open up the app, hold it over the document and it will convert it into a PDF ready for emailing or saving. You can even do more than one page at a time to make a multi-page document. It doesn't just take a photo of it, it actually transforms it into a high-quality scan. It's also great for scanning business cards and receipts. If you need to keep a receipt for warranty purposes, scan it with Scannable, then save it to your Dropbox folder. Easy as that!
8. DUOLINGO
Duolingo is a fun way to learn another language. It's always good to know the basics when you go to a foreign country, even if you don't quite get it right, the locals appreciate the effort. With Duolingo, you can learn from anywhere and their learning style is science-based. The tutorials are in short modules and your learnings are reinforced with a quiz at the end. Here's a fun fact for you – investors for Duolingo include Tim Ferris, Ashton Kutcher and Google Capital.
Duolingo is set up almost like a game so you get to learn and have fun at the same time. Perfect for road trips!
9. CITYMAPPER
Ok, this free travel app is pretty new but it's been winning a lot of awards. With Citymapper, you plug in where you are and where you want to go and it brings up options on how to get there. The walking and cycling options will also show you how many calories you'll burn and I love that they also compare it to food and drink items. For example 141 cal = 0.8 pints of bitter or 1.2 flat whites. Nice! I might just go and have 0.8 pints of bitter right now.
There are also public transport options AND it is integrated into Uber along with estimated drive time and costs. But that's not all. You can book your Uber right from the app. Wicked. Other cab companies are also included as well as 'rain safe' alternatives. Sadly Citymapper is not available in all cities yet, but the list is growing and you can get involved to vote for your favourite city to be next.
10. GOOGLE TRANSLATE
For those times when you haven't learnt the phrase through Duolingo and you desperately need to communicate, Google Translate is awesome. Just type in what you want to say, choose the language you need it translated to and boom. You can even press the sound icon for tricky phrases and the app will say it for you. A really cool feature with the Google Translate travel app is it's camera feature. You can hold up the camera and it will translate signs and text for you. You do need to download language packs though, but they don't take up much room and will work offline.
11. KINDLE
Last but not least is the Kindle app. Travelling and reading a good book go so well together. There are those times when you are waiting for your flight and need to kill the boredom, and those times where you are chilling by the poolside. The Kindle app is perfect for this and the great news is that you don't need to own a Kindle to use it. You can load the app onto all of your devices and start reading. What I really like is that if I start a book on my phone, then jump onto my tablet, it will pick up right where I left off. Brilliant. The other reason I love Kindle so much is that there are so many books available including plenty of free ones. Jump onto Amazon and take a look.
So there you go. My favourite free travel apps that I cannot live without. Before you book your next vacation, check out our resources page for more ways to save and easier ways to book.
Source: www.thesnowchasers.com