I had done treks earlier but my last trek was more than 4 years ago. So on that Friday, when Amit asked me, if I would like to join him and his friends for a trek on the coming Sunday. I was more than excited & agreed without any hesitation.
He added me to a WhatsApp group of 6 members; "TREK TO SIDDHAGAD – 23Feb2014". Lot of info had transpired in the group, & finally it was Sunday.
3 guys had already conveyed their unavailability. So 4 guys were supposed to meet at Dadar by 5.30am. I left home around 4.30am, giving myself a sufficient 1 whole hour. 1 guy was not responding, perhaps still sleeping. So finally we were just 3 of us. Amit Badolia, myself & Nishant Seth.
We left for Kalyan. The train reached Kalyan Junction around 7.00. From Kalyan we were to take a bus, but the right route bus had long time to leave, so instead of wasting time waiting for the bus, we decided to take a share Rickshaw to Murbad, Murbad to Mhassa by bus, from Mhassa again a share auto to Jambroota and then to Borwadi; the base village of Sidhgad.
It was around 9.30. We were about to start our ascend, when we met Dhondu, a local there. He was heading home, on the machi, with a small sack on his head, perhaps filled with his ration, & a cock under his left arm. Which he later said, was for a sacrifice. Amit asked Dhondo to guide us to the bale killa & for food.
For those who don't know what machi & bale killa is? machi basically is a term used for a large plateau in the mid distance to the top of the mountain. If I have to explain in layman terms, it's like the mountain has 2 levels. First comes the plateau or a machi & then it rises again to the peak, or a Bale killa, in cases of a fort.
Our trek had started. The terrain was difficult, but slowly & gradually we were rising higher. There were more villagers taking their ration to the machi. We were a little slower than them. Reason? Photography! But we were not to be blamed. The higher we were rising our horizon was widening & the site was looking more and more dynamic and breath-taking.
It took us about 2 hours to reach machi. Then another 15 min to reach Dhondu's house, where we took a break. Dhondu dropped his ration & the tied down the cock. We dropped our bags. But took a smaller bag for a bottle of water. The bale killa was still about an hour long trek. And trekking without water is criminal in any season. Equivalent to suicide. And since it was the peak hour of the day that we were going to face, carrying sufficient water became furthermore important.
After about a 15 minutes break, we proceed towards the top. Loaded with 2 cameras, on Amit & myself, and a bottle of water on Nishant. Dhondu took his sickle. A sickle to a villager is like a deo to a city guy.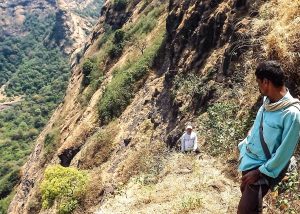 Initially it was a way through the forest. Once we crossed that, it was a gradual climb. After about 12/15 min of walk, the difficult part started. With climb at upto a 60 degree steepness at places, and spots where we could only place 1 foot, or use it as a hand grip. We had to use all our limbs. It isn't that difficult if you pay 100% attention to it. Dhondu told us that previous year there was an accident that had occurred, were a guy had fallen from a certain location & lost his life. This usually happens with over confidence & lack of attention.
Since it was the end of Feb, the dry season had already set in. All the shrubs & grass, which usually grows out of almost everywhere during the rains, had already dried off, making the course a lot clearer. Which also indicated that this place is a complete "No No" during the monsoons, unless you have all the right climbing equipment's.
After about 30/40 min of steep climb, we finally reached the top. It was around 12.30, and with absolutely no possible shelter in sight, we figured that the place would be an inferno. However we had brought water to beat the heat. And that wasn't plain water, Amit had mixed Glucose powder in it.
We then started to explore the top, which was effectively a lot of area. The 1st thing we saw was a Shivling & a Nandi in front of it. There were a few water chisels. There were hardly any remains of history on the top, till we reached the east end of the fort, where we saw the fortress wall, which we understand could be the original entrance of the fort, but now not accessible, as the route was destroyed.
The top is basically a long ridge of more than half a kilometre in length but just about a few meters of walkable width. The edges on both sides slant's down shortly, & then a good long 1500 ft. drop on either sides. With a lot of dry grass on the slants, making it a bit slippery. You better not float around like a butterfly, and walk with your eyes open.
While the west end had wide open space & a vanishing horizon around it, the east end has the Bhimashankar range, Gorakhgad, Macchindragad & Ahupe ghat in front of it, & that too at a fairly close range. The sight was quite mesmerising.
Most of the history of this fort is in the oblivion, except some info that the fort was used as a watch tower by Chatrapati Shivaji Maharaj, & then the freedom fighters used it as a shelter from mid-1800's till Bhai Kotwal & Hiraji Patil were shot dead here by the British soldiers 1943.
We had spent over an hour on the top, & what we thought would be an inferno was not really that bad. Thanks to the steady breeze, we were not feeling the brunt of the sun as yet. Although I'm not sure whether it was the breeze or was it our adrenaline. However one thing was clear. We were hungry, & it was time to head back down. The descend is very often more challenging, and we have to pay full attention during the same.
After almost an hour, we were back in Dhondu's house. His wife had cooked rice & curry and locally grown French beans. We freshened up & had our lunch. After the meal, as it usually happens, after rigours work & a filling meal; you do tend to feel drowsy. So we took that very essential short power nap, & woke up fresh.
We paid off Dhondu, as he accompanied us to the end of the machi, from where we had to decend down by ourselves. The 30 min power-nap surely refreshed our minds, but the body was still tired. We were having shaky legs. It's very common during descend. So we had to pay proper attention.
After about 90 mins we were back in Borwadi. However I need to mention that there is another route to the machi. It's from the Narivali Village. The route is longer, but has more memorabilia of the fort. An entrance gate arch, some stone carvings, a memorial of the freedom fighters and a Temple.
The trek that started 2 days back with planning, was now complete. We had climbed scaled about 2750 feet height, & a distance of almost 10 kms.
It was around 5.30pm & we had proceeded on our way back. My 1st trek after a long long gap had finished. But what happened to us on our way back, was more gruelling then the whole trek. How we got stuck at Murbad. Then due to Mega block we were not able leave Kalyan. And how I reached home at around 2.00am.
But then that's a completely different story, & that should not discourage you from trekking. Well it didn't discourage me, because after this trek I have done several treks, few of them were solo treks…