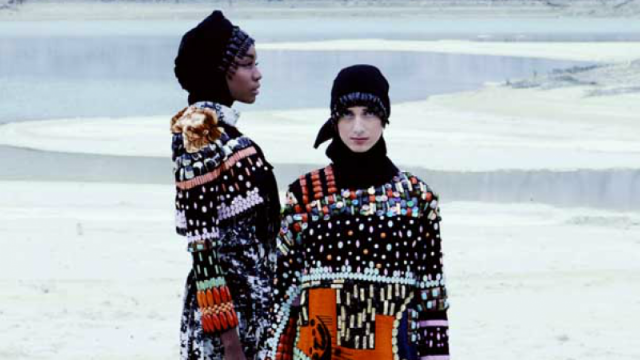 The power of fashion always remains trendy as far as people wear clothes throughout the world.
London Fashion Week showcases the UK's continued leadership in the fields of fashion and fashion education, which are important British success stories in an industry that is in reality a long way from that portrayed in the 'Zoolander' films. Indeed, far from being trivial, fashion remains a powerful vector for ideas and a significant contributor to the UK's international influence.
STYLE AND SUBSTANCE
Fashion has always been an important part of how people define themselves and others. As such it can be a powerful tool of influence. This can be direct: studies show we are more likely to trust and even obey orders from people dressed in suits or uniforms . Fashion's influence can also be indirect and constitute a form of soft power. From Wellington's boots to Gandhi's shawl and Mao's 'Mao-suit'; from Elizabeth I's ruffs to Diana's dresses to Thatcher's handbags, famous individuals become associated with certain clothes, which they often consciously use to project an image of themselves or their country.
Clothing has always been big business for the UK. The wool trade once accounted for 80% of exports from the British Isles. Now the UK's Fashion industry is worth £26 billion & 800,000 jobs to the economy , making it the UK's largest creative industry. Textile and fashion exports alone are estimated to be worth over £6.5 billion (UKFT Manifesto, UKFT 2012), and the majority of British fashion businesses export to other countries (The Value of Fashion, BFC, 2012). Foreign investment has been rising with multinational conglomerates investing heavily in young fashion businesses such as Christopher Kane and JW Anderson (The Great British Fashion Invasion, Guardian 2014).
But British fashion has soft power benefits as well as economic ones. The UK is the world leader in fashion education, with six of the world's 20 leading fashion universities (Fashionista survey, 2014). Like much of the Higher Education sector the student body is highly international, with an estimated 1,500 international students enrolling in British fashion courses every year, including hundreds from China and East Asia. This international character is reflected in the wider industry, with many of catwalk designers at London Fashion Week originating from outside the UK.
London Fashion Week is itself influential, widely recognised as one of the 'big four' international fashion festivals and a vital showcase for the UK's industry and talent. As such it is an important plank of the British Fashion Council's decision to position London as a hotbed of new, young, and multicultural talent, as opposed to the focus on more traditional and established brands often seen in New York, Paris, and Milan.
The latest London Fashion Week included the fifth International Fashion Showcase , in which 80 designers from 24 countries showed designs on the theme of 'Utopia' (a reference to the 500th Anniversary of the publication of Thomas More's philosophical book of the same name). Among them, four Indonesian designers presented collections of 'modest-wear' – up-dating traditional Muslim fashions in an attempt to combine 'collective and cultural roots with a creative, cosmopolitan future' – a sign of London's importance as a center catering for the luxury Muslim fashion market that is estimated to be worth £160 billion.
A POWERFUL TOOL OF INFLUENCE
This is just one of the many ways in which the UK fashion industry creates value and influence by its international appeal. In research conducted for the British Council by Ipsos Mori in 2014, 22% of young people in countries that are strategically important to the UK cited fashion as being something that made the UK attractive to them, and 15% cited design.
Of course, these soft power effects are not restricted to the UK. Dior's 'New Look' spread the idea of modern French chic to millions. Armani re-enforced the image of Italy as a centre of style. American jeans are worn on every continent. They have even been claimed to have played a significant part in the end of the Cold War, as part of the soft power of Western consumerism over those living in the drab Soviet Union .
Fashion and politics are inextricably linked. In today's China, Peng Liyuan, the wife of President Xi Jinping, attracts headlines for her fashion sense. Dressing in under-stated Chinese – rather than Western – brands, her wardrobe may signal at once a growing nationalist confidence and a pivot towards internal consumption and creative industries by a Chinese economy that may be reaching the limits of its previous model of manufacturing and export-led growth. The fashion world continues to be a powerful social, political, and cultural commentator.
Arguably this has always been true. The suit jacket began its life when Charles II literally dictated a new fashion for them as part of a calculated strategy to undermine French influence on Britain. The colours of Modern suits owe much to the Regency dandy, Beau Brummell, whose subtle sense of style influenced King George IV and high fashion, though at the same time Britain's Industrial Revolution – itself initially part-driven by the demand for fabrics – was democratising fashion as never before and spreading UK influence all round the world. The suit soon became a symbol of modernisation around the world. In Japan, for example, the very word for suit suggests UK influence: 'sebiro' is a corruption of the London street perhaps most associated with sartorial quality: Saville Row.
Fashions may change, but fashion has always and will always be with us. As long as people wear clothes and accessories, they will consciously or unconsciously influence each other by the way they dress. The connection between fashion and soft power will therefore remain intrinsic and enduring. And fashion will continue to project UK influence as well as benefiting its economy.