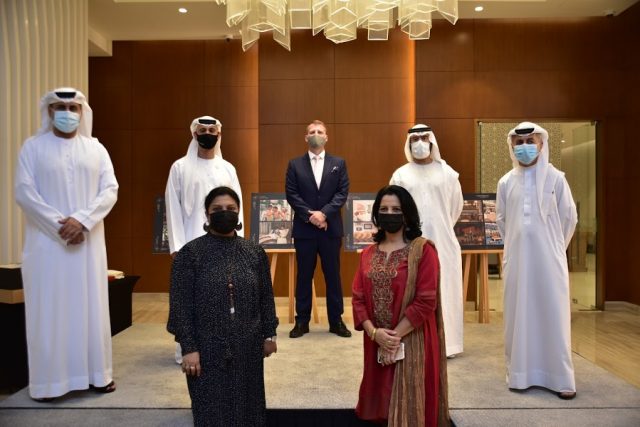 HUMAN BEINGS, THEIR IDEAS, INNOVATIONS, DREAMS, AND CONNECTIONS  ARE THE CAPITAL OF THE FUTURE. BECAUSE WHERE GREAT MINDS GO TODAY,  GREAT THINGS WILL HAPPEN TOMORROW."  
Beautiful words by the visionary leader SHEIKH MOHAMMAD.  
The UAE based art group Funun Arts along with Grand Mercure Hotels and  Residences organized an art exhibition where 26 artists from 10 different  nationalities showcase UAE its culture, places, and their perspective through  arts.  
Titled UAE: LAND OF DREAMS, the exhibition was inaugurated at the Grand Hall  art gallery of the Grand Mercure Hotel, Dubai. It is the first art exhibition in the  gallery. This exhibition will run till September. Shiba Khan and Farah khan  selected 26 artists from 10 different nationalities residing in the UAE.  
The exhibition was inaugurated by Mr. Khalil Abdul Wahid, Director of Fine Arts,  Dubai Culture and Art Authority and Mr. Yasser Al Gargawi, Director of  programs and partnerships, Ministry of Tolerance. Mr. Khalil said, "It is an honor  to be here as a chief guest and see the beautiful artwork, artists from diverse  nationalities coming up together to showcase one theme with different  perspective".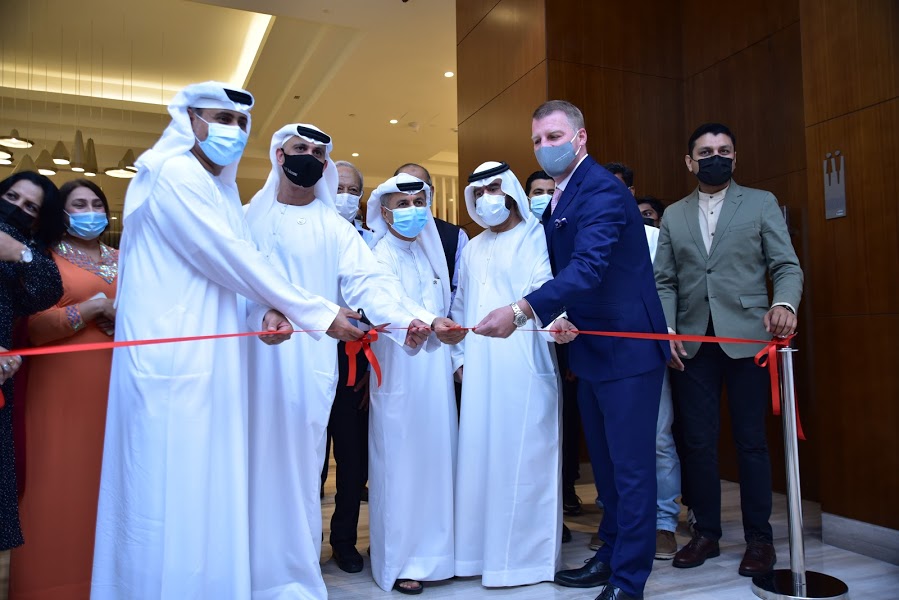 Mr. Yasser said, "I congratulate Shiba Khan and Farah khan for their work in the  field of art and culture. We can see a variety of work and the expressive way of  artists through their paintings. Each artwork narrates a story which is well  explained by an artists and felt by the viewer".  
Beside them there were many other distinguished guests who were present on  the opening night of the exhibition.  
Mr. Tyrone lodder, General Manager of the hotel said, Art has added colors to  the beauty of the hotel. We are so happy to have this collaboration and  showcasing these beautiful artwork which gives pleasing experience to the eyes. 
Shiba Khan told us that, "UAE is a land of dreams and inspiring tales. It is a land  where fantasy is converted to reality every day. It is a land with lots of  opportunities for the youth, for entrepreneurs and for art as well. It is like a  home far from home for all the expats living here. And this is the high time to  pay tribute to this great nation. As art is the best way to express so we came up  with this theme. My paintings EMOTIONS which are the part of the exhibition  shows my attachment with this place. Bold colors and textures used represent  the strength and the tolerance of this multicultural place." 
Farah khan, creative designer of Funun arts exhibited her beautiful photograph  which shows the oldest mode of transports ABRA, which is still going on and it is  one of the favorite tourist attractions. It shows the connectivity of the culture  and modernization. The other picture tells the story of sikka, the narrow old  lanes of Dubai, which are the hub of art and culture.  
Anjani prakash laitu , legendary Indian artists received the life time achievement  award presented by Funun arts. He said, "It is a very prestigious award and I am  happy to receive it. My paintings COLORS show the vibrant culture of this  nation. I am here for 25 years and lived my passion of painting. My paintings  spread happiness and positivity".  
Rafa Tom, artist from Lebanon presented her 4 artworks showcasing the culture  and life of UAE. She used different textures in her paintings which makes the  artwork very expressive.  
Amr Wadea, an artist from Egypt showcased his two artwork. When asked he  said, "I want to show the progressive thinking of this nation through my  paintings. One painting show the culture and other shows it high rise buidings  with best infrastructure, it shows the balance and success with keeping the  roots strong".  
Ahmed Rukni , Maryam , Gayathi artist from UAE paid tribute to UAE with their  artworks with different mediums. 
Petra Kalternbach( Germany) , Samar Kamel( Egypt), Batool Jafri( Pakistan) ,  artist and special guests of the event exhibited their artworks showing love and  devotion.  
Rose Jaranya, artist from Thailand presented her artwork with the traditional  style of Thailand painting with the UAE iconic spots in the eye. She said "Colors  in my paintings show the colorful and happy life in UAE".  
Rima Moukahal an artist from Lebanon said, she saw the beautiful sunrise and  she painted it on the canvas and her another painting shows the blossom and  enrichment. She is lucky that she live in this nation which is a multicultural  place.  
Participating artists whose artwork can be seen till September are:  Aarushi Malik(India), Ahmed Al Awadhi( UAE), Ajmal Mirajkar(India), Amr  Wadea(Egypt), Anjini Prakash Laitu(India), Batool Jaferi(Pakistan), Christopher  MacNeil(America), Dina Albarqi(Palestine), Farah Khan(India), Gehan  Fawzi(Egypt), Ghayathi Belhasa(UAE), Ishrat Keyani( Pakistan), Maryam Bin  Bishr( UAE), Mukta ( India), Noor Haidri ( Pakistan), Pari Sagar( India),  Petra ( Germany), Rafa Tom( Lebanon), Rima Moukahal (Lebanaon), Rose  Jaranya( Thailand), Sabah Anees( India), Samar Kamel(Egypt), Shabnoor  Quereshi( India), Shiba Khan ( India), Somya Rastogi( India), Vanashri (India)  At last the founders and organizer of the event said, we try to put our soul and  heart to bring together everything. 
As the philosophy of Funun arts is:  
COMING TOGETHER IS THE BEGINNING  
KEEPING TOGETHER IS THE PROCESS  
WORKING TOGETHER IS THE SUCCESS
-By Pari Sagar