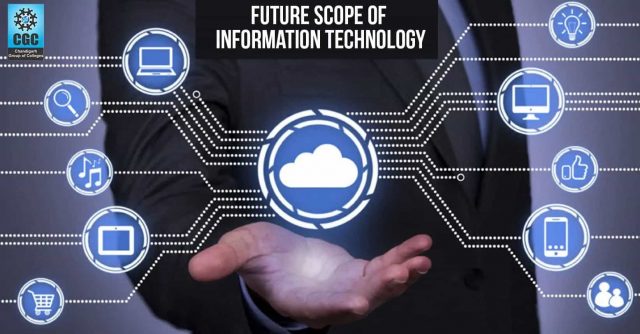 "It has become appallingly obvious that our technology has exceeded our humanity all over"
What is Information Technology?
One of the most commonly used acronyms in the world of education is IT; still very few actually know what this field is all about. In a layman's word, this is a study which covers the use of computer systems. Perhaps that is why IT has become a synonym of computers for a common man. However, IT has many more things to offer and is not just confined to the boundaries of the computer system and is used to study the use of varied systems, such as telecommunications.
According to Oxford Advanced Learner's dictionary, Information Technology is "the study or use of electronic equipment, especially computers, for storing, accessing, analysing and sending information". This means that the students choosing this field have to deal with many things like the infrastructure, development, storage, processing, and networking of devices apart from exchanging various forms of electronic data and its security. In fact, security has become a major threat to the future of IT.
What makes IT amazing choice?
Information Technology has become a favorite choice not only for students but also for their parents, as it opens the roads for abroad. This popularity of IT is also due to its potential of improving the lives of a common man. A byword for smart life, Information technology has been the main catalyst to make the existence of mankind simpler, smoother and easier. In the contemporary world, a man with information has the power to turn the wheels of fortune.
In addition to this, IT also challenges the competence of an individual and motivates them to come up with ideas that can transform the structure of human life. The stupendous role of Information Technology is well reflected in multi-national corporations, large-cap, mid-cap and small-cap businesses that involves and in a plethora of works like management of data, inventory, customer relationship, Information Systems, etc. Some of the most popular and mind-boggling ideas which are running on the wheels of IT are:
Social media networking
Patient portals
Digital marketing
Mobile Applications
Website Applications
Online shopping Portals
Internet Banking


Strands Attached to IT Courses

The purpose of Information Technology courses is to equip students with theoretical knowledge as well as the skill sets that meet the requirements of the IT companies. Whether it is the designing, development or testing of software, all the things are a part of the IT courses. The students planning to pursue B-Tech in IT must realize the fact that this course includes the core concepts of database management systems, Java programming, information security, analysis of the algorithm, computer networking, ERP, E-commerce, cloud computing, software engineering and many other things related to operating systems.

Job Outcomes for the Students of Information Technology

Propelled by the challenges of employment, it becomes inevitable for the students to opt for a stream which unfolds myriad career opportunities. Information Technology is one such field in the engineering that paves way for a shining future.
IT additionally helps in expanding one's ability and identity. Anyone having qualities like good communication skills, curiosity to come up with new ideas and passion to improve their knowledge in the IT industry can expect the best things in their career.
The most alluring part of this field is that there is no shortage of job options at both entry-level and expert level, as the IT sector is expanding by a quantum fold. After completing their B-Tech in IT, students can seek jobs at almost all the major Multinational Corporations (MNCs) like IBM, Microsoft, Cisco, etc.
Here, some of the job profiles served by candidates after attaining a degree in the IT industry have been highlighted:

Computer Programmer
Web developer
Software Analyst
Software engineer
Information security analyst

These are just a few important positions available for IT students. Once the individual enters the industry, they can find innumerable other job outcomes with whopping remuneration.

Conclusion

Undoubtedly, IT is a stream, which can change one's destiny in a positive way. There is no dearth of job options for the qualified students in this stream. However, one has to accept the fact that the caliber of the students plays a pivotal role in the success of their career. The salary packages also vary depending profusely on the competence and experience of the individual in the field. Despite saying this, it won't be a hyperbole to say that when a candidate joins Chandigrah group of colleges , Landran to study engineering in Information Technology, then he or she unfurls the best career opportunities.
So, why waste time in the arduous task of looking for IT engineering colleges in India. Get in touch with C G C Landran, the best engineering colleges in punjab and unlock the door to a bright future. Students from all across the globe are welcome here to study and make a thriving career.