Stunning Ideas for Balayage Hair
Balayage hair is all the rage right now. It is a hair technique that started in France and aimed to create soft, sultry highlights that look more modern than the traditional highlights.
Balayage hair color is different from traditional hair coloring in that it is painted freehand as opposed to using foil or a hair cap.
It works great on those with a brown hair color to give it some gorgeous caramel tones. You can intensify the hue by going from a soft hue to a bolder wash. It works great on all hair lengths, especially on extremely short hair styles. A quality balayage hair treatment can last as long as four months.
1. Chocolate and Dark Brown Balayage Hair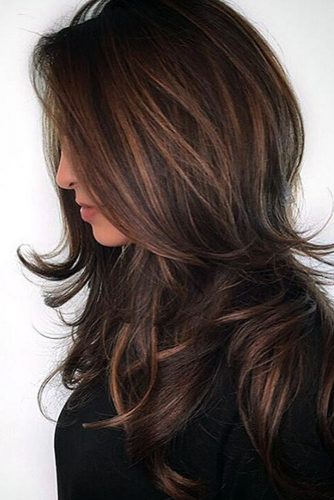 This style creates soft and silky dimension to those with brunette hair. Keep your natural base and add a medium brown balayage color. This color works great on those with medium layered cuts and naturally wavy hair.
2. Caramel Balayage Highlights for Brown Hair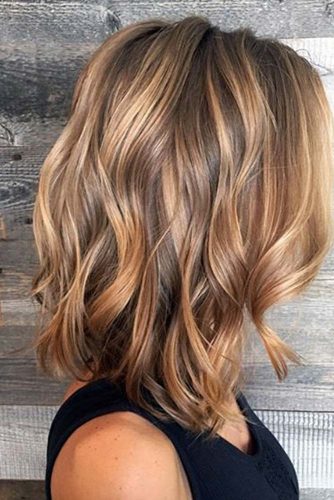 For those who prefer a sun-kissed natural look, but want to maintain their sexy brunette status, this sultry style with blonde and caramel tones will add a new life to your brunette locks. This looks especially gorgeous with a funky, choppy bob.
3. Espresso Balayage with Caramel Tones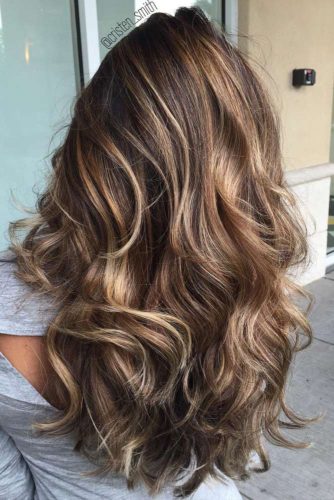 For an ultra-trendy look, opt for thicker highlights below with thinner tones in the middle. This combo of caramel and honey colors is perfect. You can add some blonde to the ends for added dimension. You can also add some curls for a fun, flirty appeal that works for any occasion.
4. Brown to Caramel Ombre and Blonde Balayage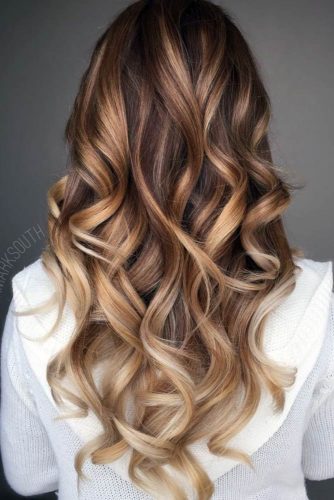 Every brunette who dyes her hair opts for the fade from brown to blonde. But if you wish to personalize this look, add random blonde highlights to brown and caramel ombre and then frame your hair with blonde highlights, as well. This looks stunning in a longer v-haircut and will turn heads wherever you go.
5. Soft and Subtle Balayage for Brown Hair
If you aren't feeling too daring, start with a more subtle fade to brown balayage. If you are impressed, you can always go bolder your next round. This style is so versatile and this look is so soft and feminine. You can always upgrade to a funkier balayage when you feel more daring.
6. Natural Chocolate Waves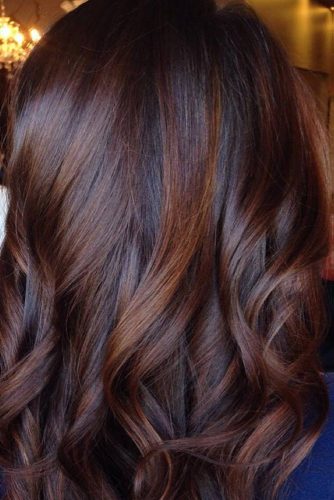 For those with straight, darker hair, this style adds some spice without being too bold. There is just a slight depth to add dimension to your naturally dark tones. Add some sexy curls or beach waves for a chic and classy look and feel.
7. Light Caramel Hair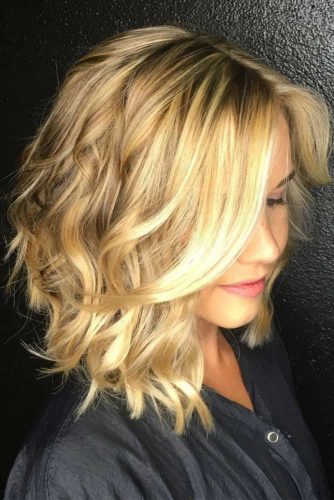 This angled bob proves that balayage hair color can work on any hair length. The layers add dimension and the soft caramel tones add mystery for a sexy, sultry look that will draw all eyes to you when you waltz into a room.
8. Caramel Ribbons with Chocolate Waves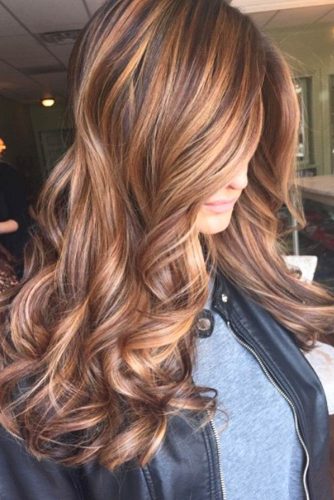 Caramel and chocolate are not only a sweet food combo but a sexy combo for hair color, as well. The subtle blend between the two colors that is definitely feminine and sophisticated will add depth and dimension to your gorgeous brunette locks without being too dramatic.
9. Black Hair with Caramel and Brown Ombre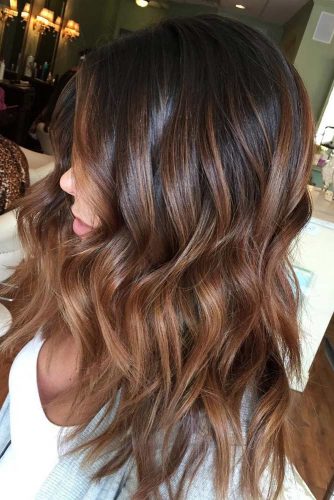 This stunning style combines the two most popular coloring techniques: ombre and balayage for gorgeous waves with a lot of dimension. These colors will cascade gracefully throughout your natural curls and waves for added depth and texture.
10. Blonde, Caramel, and Brown Tones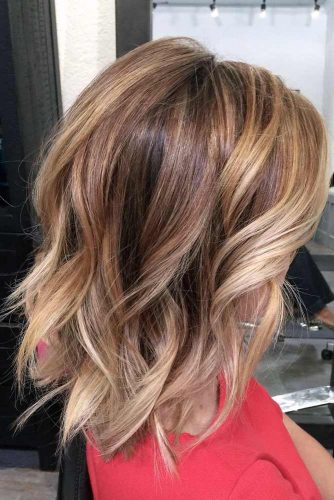 Reddish tones on brunette hair are always a popular choice. Start with a dark burgundy or deep chocolate brown at the base and then add chunky caramel heights with a subtle sprinkle of blonde for a stunning style with color and dimension.
11. Brunette Layered Haircut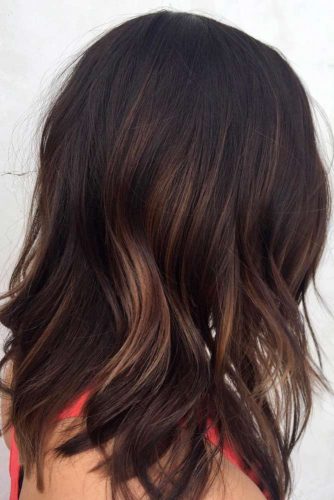 For those who like to wear their hair down, this medium length cut with its bold and choppy layers and dramatic darker brown balayage is both fun and sexy. If you want to be a bit bolder, graze the layers with a lighter shade. Light caramel on deep black is sultry and sophisticated.
12. Wavy Brown Bob
There are so many options for brunettes when it comes to balayage hair colors. You can add caramel and auburn tones to your darker tresses or add golden shades from light blonde to a softer brown. The more shades you add, the deeper the dimension. Start with a dark base and wash in medium colors with light ash tones towards the ends and then add very thin ribbons of blonde throughout for a unique and sexy style.
13. Mixed Balayage on Dark Brown Hair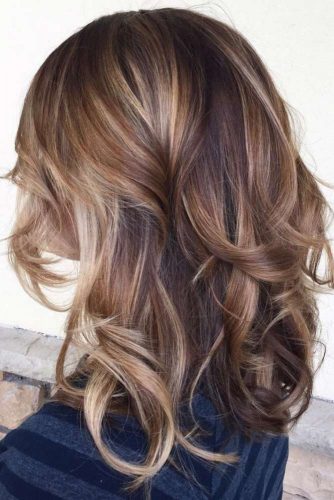 This style works best on those with a shaggy cut and natural waves. It is both chic and natural with its great blend of soft and subtle caramel and lighter brown balayage tones. This look will come off elegant, natural, and carefree.
14. Caramel Toned Layers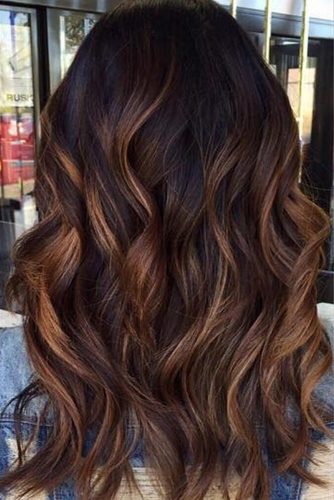 This soft style works great on brunettes with warmer complexions. Long luscious waves of caramel ribbons throughout add a silky dimension that can drive any man to his knees.
15. Coffee Brown Ombre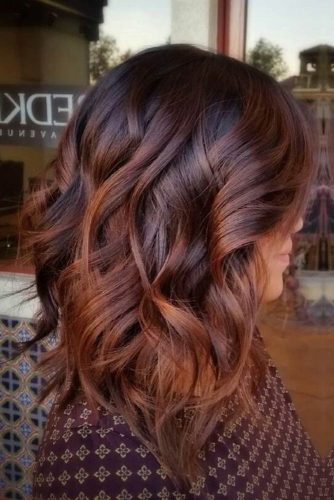 Auburn is less popular than caramel but it can be just as stunning, if not more so. If you want to stand out from the crowd, mix in some auburn tones to your darker locks. You can throw in some darker brown balayage as well for added depth.
16. Warm Copper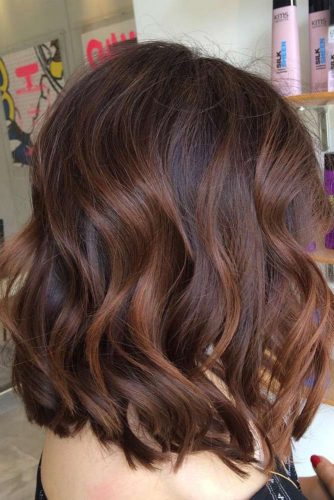 A dark brown warm copper shade is rich and burnished. This hair color is flattering for ladies whose skin tone is medium, or fair, and peach, neutral or pink. Also, this shade is ideal for ladies whose eyes are green, blue, or brown.
17. Latte Brown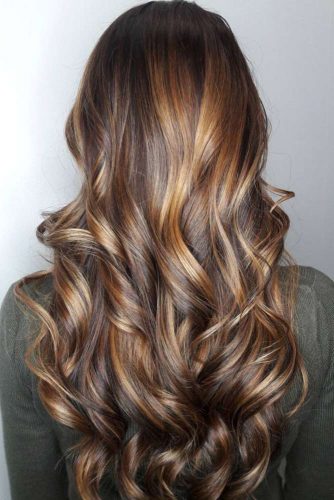 A latte hair shade with an espresso hue is a gorgeous blend. It will make your facial features appear softer and also brighten your eyes. This shade is especially flattering when styled in effortless curls.
18. Dimensional Balayage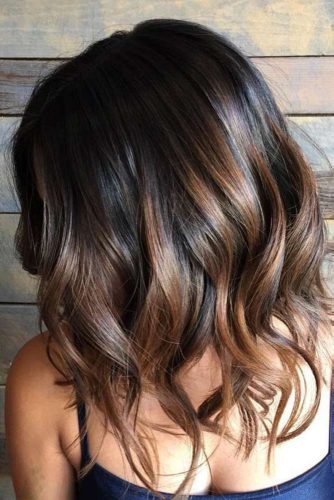 This multi-dimensional balayage color blend with a hint of caramel brownie is super rich and so warm. This shade adds volume to your hairstyle, especially with curls.
Source: http://lovehairstyles.com